System100™ Software Features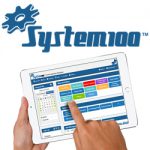 Review System100 Software Features and discover the new "Brain Trust" for your business. System100 is a feature-rich, browser-based cloud solution that streamlines your business for growth. Therefore, increasing profitability while removing inefficiency and waste. We designed System100 to be a software that can organize any small to midsize business in a matter of months.
To emphasize, these features are Business Process Management systems that integrate to form the whole, THE SYSTEM. In other words, the System100 Software Features make up an ERP – Enterprise Resource Planning solution. More importantly, System100™ will not break the bank, in fact when implemented correctly; it becomes a valuable asset and investment.
All Features Support Turning ON or OFF by Admin Users
You choose and implement the System100 Software Features that are best for your business. For example, if you have Job Tracking Software you currently use, then you can turn off System100's JobTraxx™. We have many clients who use System100 for organization and quality control, i.e. ISO clients. In short, we understand that one size doesn't fit all.
Our mission is to remove frustrations in business, by implementing one system at a time for clients.  Therefore, the System100 Software Features here, contain the systems that can remove chaos, and business frustrations from your company. Start today, bring your business to order and greatness, with System100™!
System100™ Hallmarks - Service & Support
Organization - Administration