Operations Manual Software for Small Business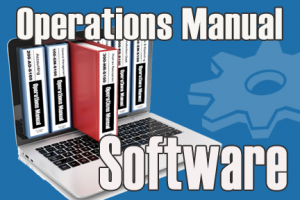 Operations Manual Software for small business is an investment that pays large, measurable dividends. Moreover, an operations manual for a small business keeps everyone on the same page.
The good news is, you don't need to start from scratch! In addition, using System100, you build a Company Operations Manual, fast?
To enumerate, System100™ has hundreds of document templates developed by our "BRAIN TRUST." Specifically, this is a network of hundreds of business specialists in Service and Manufacturing industries.
As a result, our clients have access to all these documents to use as templates; representing thousands of hours of research and development.
Again, empowering small business owners and managers to build a work procedure manual, quickly!
Operations Manual Software Training
Our System100 team is very experienced in the building of an online Operations Manual for any small business. In addition, our team has the experience and the patience, to train and guide clients through the process of creating their company operations manual.
As a result, clients can create their own service operations manual consisting of Quality Assurance Checklists, Daily Routine Checklists, and Procedures. In addition, Job Descriptions, Policies, Human Resource Documents, Orientation Documents, and Preventative Maintenance Checklists, etc. More importantly, our system keeps all SOP's—Standard Operating Procedures in one place for easy access and editing.
As a matter of fact, clients can turn ANY static document into an interactive document with its own reporting system, within minutes. With this tool, an HR Operations manual has never been so easy and fun to create.
Operations Manual Software | Document Management
Lastly, as you create documents you are automatically building a Document Management System. In other words, no more spreadsheets and other manual methods for keeping up with company documents!

FYI: Watching this video is a wonderful learning experience in business organization and business systematization.
In fact, you will gain new ideas to systematize your business for growth!