Business Management Software
The Next Generation of Web-Based, Feature Rich and Affordable Business Process Management Software for Small Businesses
Business Management Software
The Next Generation of Web-Based, Feature Rich and Affordable Business Process Management Software for Small Businesses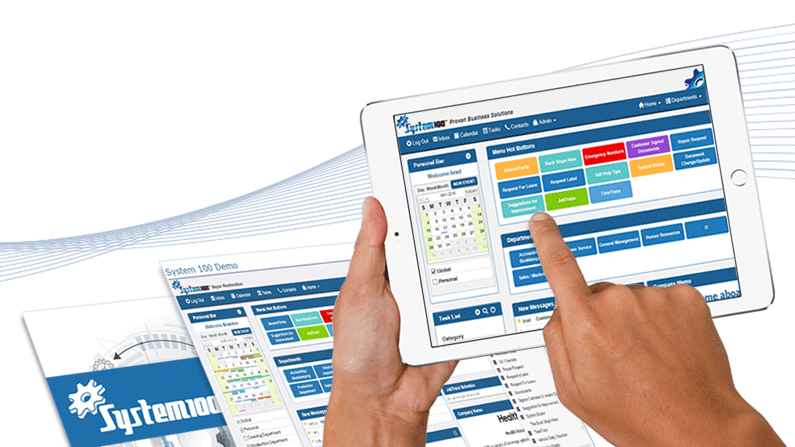 Business Process Management Software
System100™ is a browser-based business process management software (BPM) for complete Job Shop and Service Management. In addition, it features a Customer Relationship Management (CRM) solution along with many business control features to ensure employee accountability. Coupled with, giving employees easy access to solutions needed for maximum performance.
As a result, using System100's series of integrated systems to automate office, service and manufacturing functions, management maintains full control of operations. In other words, it puts owners and managers in the driver seat!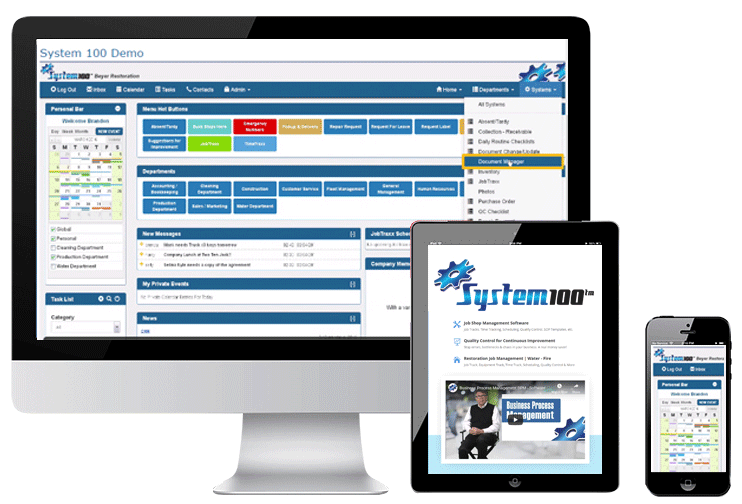 System100™ is the solution for;
• Tracking Job/Projects/Services
• Scheduling Job/Projects/Services
• Organizing a Small Business
• (SOP) Standard Operating Procedures
• Quality Control Sustainability
• Service Control Sustainability
• (CAPA) Corrective & Preventive Action
• Operations Manual
• Franchise-Ready a Business
• Continuous Improvement
Job Tracks, Time Tracking, Scheduling, Quality Control, SOP Templates, etc.
Stop errors, bottlenecks & chaos in your business. A real money saver!
Job Track, Equipment Track, Time Track, Scheduling, Quality Control & More
Business Process Management Software | Will Stop the Chaos!
System100™ eliminates errors, therefore eliminating rework, bottlenecks, chaos and all forms of waste in a company. Whereby, empowering employees to work at maximum efficiency.
System100™ business process management solution features SOP's ready for editing. In addition, System100™ is fully dynamic, moreover supporting customization by admin users. In other words, the ability to make major changes to the software without need of a programmer. As a result, this feature-rich software will organize and turn-key any type of business, in a matter of months.
Gain Time to Work on Your Business in Order to Grow It!
System100™ can free up to 90% of the time an owner or managers spends, bogged down in the day to day operations. Therefore, giving owners extra time to market and grow their business. But most importantly, giving them the time to enjoy their life.
Operate a Business Efficiently Without Being Onsite
Say farewell to complicated solutions so-called "experts" take years to implement. Thereby, leaving owners and managers with little control over their business. In contrast, System100™ business process management software gives management maximum control over business frustrations. Therefore, allowing management to leave the premise without the business falling apart.
In short, don't waste years reinventing the wheel by developing systems from scratch. Because System100™ is ready now!
For more information on our business process management software please feel free to explore all our features. In addition, we have hours of informative videos and free documents for learning how to organize a business using a systematic methodology!
for Small Manufacturing & Service
We Organize Businesses by Removing Frustrations – One System at a Time
System100™ Business Process Management empowers businesses to operate without the owner onsite.
Features include, Job Tracking & Scheduling, Quality Management, Customer Relationship Management, and much more.
Learn More About System100™
for Small Business Job Shop Management Software
Business Workflow Software Tools