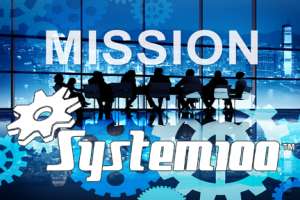 We are in business for the purpose of
Removing Business Frustrations for our customers one-system-at-a-time.
Providing our customers with unique, affordable tools and expert information that will assist them in transforming their businesses from "ordinary" to extraordinary. And by encouraging a systematic approach for organization.
To simplify otherwise complex business systems, language and processes for small businesses and organizations. As a result  they may achieve and sustain lean practices, team cooperation, and maximum efficiency for their business.
System100 Mission and Journey
In order to assure our clients the best in customer service and fulfill the System100 Mission, Ebiz Products employs only service-minded and well-trained personnel. This assurance will be witnessed in every phase of our business with an emphasis on excellence, prompt service, courtesy, honesty—a genuine concern for our clients, and a Quality and Service Control System to meet or exceed their and our expectations.
Through these commitments, we build our futures, to the benefit of all concerned.
— The Staff of Ebiz Products, LLC