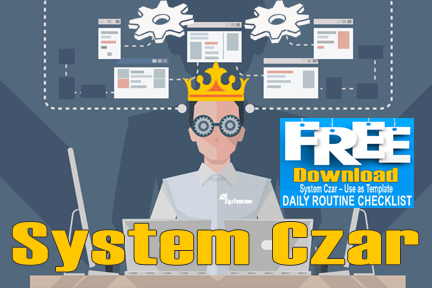 A Process Manager is the administrator of the step-by-step processes that run a business, from beginning to end, and from opening to closing.
In other words, he or she will design, audit, and improve continually, ALL business processes for the business.  In short, a Process Manager is the "SYSTEM CZAR"—one who manages the system that manages the employees!
That's what smart franchise and independent companies do.  They employ someone for the position of Process Manager whose chief duty is to document, in written form, step-by-step procedures for process flow and how it works.
Most importantly, the "System Czar," the Process Manager, monitors all processes; continually looking for ways to improve them. As a result, the System Czar earns his or her pay by cost savings generated through better process management and eliminating waste.
NOTE: All documented processes are integrated in the company's Operations Manual, which is easily accessible to all members of the organization.
System Czar | Process Owner for Small Business
In a small business, at the beginning stage of documenting processes, the person given the role of System Czar/Process Manager, should be the OWNER.  Every small business owner should know how his or her company operates, from beginning to end.  Hopefully, they have a vision for where the business is heading. Therefore, the owner needs to lead their team in documenting how the business will run and look. This will implement a more peaceful culture.
Edward Deming of the Deming Award stated; "If you can't describe what you are doing as a process, then you don't what you are doing."
Once the documenting and implementing of the main processes is completed, the owner can then delegate the role of System Czar to someone they trust. At this stage, the Project Manager would be an appropriate choice for adding the duties of System Czar to their current position. The reason being, the Project Manager is administrator of daily production and service workflow. Moreover, when the process management system is up and running, to sustain it,  just a little tweak here and there.
The System Czar | Position Tools
The System Czar administrates ALL non-conformance in the production and/or service cycle, using a corrective action system.  CAPA Corrective Action is a system/tool for the continual improvement of all production and/or service processes. In like manner, we have a system called the System Buster Locator, an automated system for tracking non-conformance. Also, used by ISO companies who goal is zero errors.
The System Czar Position | As a System
Consider the System Czar / Process Manager position as a SYSTEM itself, versus just a job position. In other words, systematically documenting their role as if it were any other PROCESS.  All their duties would be documented, step-by-step, in a Daily Routine Checklist, along with a Quality Assurance Checklist.
Systematizing their role, versus trusting a vague Job Description document, assures a business owner control of the System Czar SYSTEM. This is using the same method of controlling production and/or service processes. Consequently, the business owner manages a system, versus managing the person.
We want to share a FREE example of a System Czar / Process Manager Daily Routine Checklist. To be used as a template to create your own system for your industry. Simply click here or the graphic above.
Checklists are solutions/tools to observe not only HOW managers are performing, but also WHAT they are performing throughout the day. Remarkably, these control checklists, for a System Czar are the "eyes" and "ears" of the small business OWNER.
Did I mention? Great Systems Work!