Total Quality Management Software (TQM) | System100™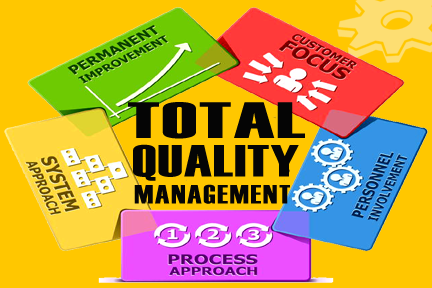 Total Quality Management Software will profoundly change a business and the owner's life in a matter of months, when implemented. Moreover, bringing positive change for employees, as well as the owner's family.
(TQM) Total Quality Management is not based on theory or a pie-in-the-sky concept. TQM is proved-out every day in small businesses around the world by leaving their competitors behind, with QUALITY of product and service. More importantly, their products and services never stop improving.
To point out, (BPM) Business Process Management Software is aka, as (TQM) Total Quality Management Software.
What is Total Quality Management?
Specifically, TQM is committing to never-ending-improvement in all areas of the organization, whereby creating a positive feedback loop; guaranteeing that—as service, production and product improves—the system of improvement also improves!
Whew! That's a mouth full, you may need to read that again.
Total = Every Area of a Business.
Quality = Great product, service, and business culture.
Management = Unbiased administration, through written processes, continually improved systematically.
TQM is Not Rocket Science
Most small business owners assume implementing TQM is like rocket science or brain surgery. Truth is, Total Quality Management is simply, plain common sense. Surprisingly, implementing Total Quality Management software can be FUN!
Why? When witnessing the benefits by implementing systems to fix business frustrations owner's want to keep going! Like, reading a great book, you just don't want to put it down.
Our founder wrote a book about his journey from a "reactive style management" to total quality management, called System Busters; How to Stop Them in Your Business.
Total Quality Management Software | Owner's Eyes & Ears
Most companies have some type of management software, i.e., Job Tracking or CRM, etc. However, that doesn't ensure the right controls are in place to prevent errors and miscommunications that cause frustrations; much less, the tools to control them. 
For this reason, acquiring the right software is key.
Truth is, most software does not address the root cause of frustrations encountered when managing a business. In fact, most management software doesn't have the control features needed to assure total quality management.
To point out, small business owners must understand the root cause of any non-conformance in order to fix it systematically. Therefore, to achieve systematic and continuous improvement, a TQM or a BPM Business Process Management Software is CRUCIAL. More importantly, one with the right tools!
Don't Start from Scratch | Hit the Ground Running!
System100™ Business Process Management Software saves years of building and implementing total quality management in a small business. In fact, we have over two decades of experience and knowledge; also, an array of solutions and a "brain-trust" of hundreds of documents for use as templates. As a result, this speeds up the implementation process of total quality management.
TQM – Total Quality Management Software Benefits
Market Value of Business Increased
Owners Freed from Daily Operations
Higher Profits
Increased production through-put
Waste Reduction
Fewer Company Meetings
Fewer Managers
Less Customer turnover
Less Employee turnover
Culture of peace