Process Manager | Project Manager | As a System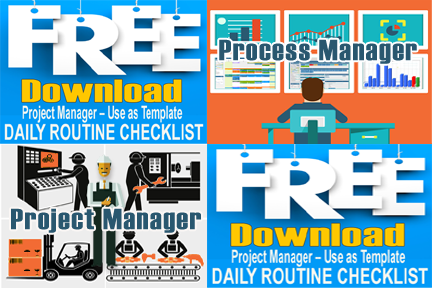 A business Process Manager is the overseer of the step-by-step processes that operate a business; from front to back and morning to night. Specifically, they create, measure, audit, and continually improve ALL processes for the organization.  You might even call a Process Manager, "the SYSTEM'S CZAR," who manages the system that manages the employees.
That's what the "big boys" do!  They hire someone for the Process Manager position whose main duty is to document, by writing down step-by-step procedures of how to perform a process, and the flow of one process to the next.
More importantly, the process manager monitors all processes, continually, looking for ways to improve them. As a result, the Process Manager earns their wage by saving money for the organization through better process management, and eliminating waste of all kinds. All written processes become part of the company's Operations Manual and made accessible to employees.
Process Manager is Process Owner for Small Business
In a small business, at the beginning stage of documenting processes, the person wearing the hat of Process Manager, at first, should be the OWNER.  Every small business owner knows, or should know how their company operates from start to finish. Moreover, they have or should have the vision for where the business is heading. Thus, the owner needs to lead the charge in documenting how the business will operate and look.
Edward Deming of the Deming Award stated, "If you can't describe what you are doing as a process, then you don't what you are doing."
The good news is, once the documenting and implementing of the main processes are completed, the owner can then delegate the position of Process Manager to another person. At this point, the Project Manager would be an excellent choice for adding the role of Process Manager to their position. Because, the Project Manager is close to most of the company processes. Moreover, since the process management system would be in place, tweaking the system is all that's needed.
Again, it's important to realize, organizing all written processes to the company's Operation Manual is also key to a vibrant Process Management System. Read on!
Project Manager Position
The Project Manager works to make company processes/workflows operate smoothly, looking for ways to improve efficiency and eliminating bottlenecks. As a result, process errors for production and service are substantially reduced. And, delivery of product and service are greatly improved.
The Project Manager is to report ALL non-conformance, during the production and/or service cycle, to the Process Manager for corrective action.  CAPA Corrective Action is a system for the continual improvement of all production and/or service processes.
Process Manager & Project Manager Position as a System
On our website for System100, a Business Process Management tool, we have educational materials for Process Managers; whereby, we implore small business owners to embrace systematization using control checklists methodology. In fact, it's the only SURE way to ensure consistency in any process, or the performance of an employee's position.
With this in mind, consider the Process Manager and/or a Project Manager position as a SYSTEM, versus merely a job position. In other words, documenting systematically, these managers function as if they were a production or service process by using a Daily Routine Checklist, along with a Quality Assurance Checklist.
As a result, systematizing a job position, versus relying on a vague Job Description document, gives business owners complete control of, i. e. the Project Management SYSTEM, in the same manner, you would control a production process. In fact, the business owner is managing a system versus managing a person.
To summarize, these control checklists for a PROJECT MANAGEMENT SYSTEM or PROCESS MANAGER SYSTEM become the "eyes" and "ears" of an owner.  Checklists are tools to observe how managers are performing, throughout the day; more importantly, WHAT TASK they're performing!
Download FREE Project Manager's Daily Routine Checklist
We want to share a FREE, two-page Project Manager's Daily Routine Checklist. This one checklist could revolutionize your business. We know, because we've seen it operating for over fifteen years in a manufacturing facility. Even though this may not be for your industry you will be able to see how to use this as a template for your industry.  Just Click Here or on the graphic at top of this blog.
NOTE: When reviewing this checklist, note the referenced document numbers and system names in RED.  These, link directly to the referenced document or system, when using the online system. When using this checklist manually (paper) you still have the referenced document number for easy look-up.
Process Manager vs. Project Manager| Summarized
Think of the Process Manager as the person who builds and maintains the systems that run the organization. And, the Project Manager as the person who oversees all personnel to ensure system compliance. These two positions have two VERY different responsibilities. However, working together systematically, they create what we've been calling a "Symphony of Order"