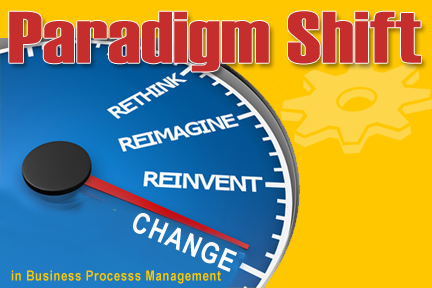 To say there's been a paradigm shift in business process management is the understatement of the century! Every business owner or manager not only KNOWS this fact, but has experienced the results of the "shift" up close. Consequently, the paradigm shift in business process management has transformed the business world drastically, that few could imagine just ten years ago.
A paradigm shift is when a fundamental and/or monumental change or disruption occurs in current processes, models or perceptions. In other words, a monumental adjustment in norms, standards, thinking, patterns and set values, etc.
These paradigm shifts have frightened some business owners to the point of departing from the world of business. However, many other entrepreneurs perceived the "shift" as opportunities and have, therefore, founded new types of businesses that led to even greater paradigm shifts. One of the radical paradigm shifts has been in business process management software and process control.
SAAS | Paradigm Shift in Business Process Management
SAAS is an acronym for Software As A Service, whereby a business pays monthly for software that is not located in their local office computer. Specifically, the software is located and accessed remotely via the Internet and serviced by the software developer. Also known as cloud computing.
The benefit of SAAS is, a small business does not have to maintain a server which is very expensive, not to mention risky. In addition, business owners with just a little research can dramatically change their business by utilizing very affordable SAAS systems. BPM – Business Process Management, ERP – Enterprise Resource Planning, MIS – Management Information Systems, CRM – Contact Relationship Management, etc.
Not using a Business Process Management Software in today's world is not smart; in fact, it's risky.
SAAS is the future of software.
Online Meetings | Webinars | Paradigm Shift in Business Process Management
Our company has seen SAAS technology changing exponentially. Prospects are more aware of software possibilities via information that's now accessible on the World Wide Web. To stay relevant in today's shifting paradigm, a business MUST NOT retreat to "business as usual." In fact, a business should implement regular brain-storming meetings to ensure they're staying on the cutting edge of innovative technologies. In addition, they should brain-storm concerning best practices in their current processes. Moreover, the continual improvement of current operations in business management via systemization. That's what great companies do!
Paradigm Shift in Business Process Management | Not Rocket Science
Do not let a paradigm shift FRIGHTEN you, especially in business management. The first step a business owner should consider when facing a paradigm shift is to ensure they have QUALITY TIME. As a result, of having quality time, an owner can study, test, compare and, most importantly, embrace the paradigm shift, IF it proves beneficial.
To ensure having quality time for facing paradigm shifts, a business owner must systemize their business, so as to operate WITH or WITHOUT being on premise.  In other words, eliminate business frustrations that keep an owner bogged down in the mundane daily operations. When written systems are in place, an owner can better delegate one of their "hats" to others.
In conclusion, business owners and managers should implement a paradigm shift in business process management into their own company. Most importantly, a shift that utilizes a systemic approach!
Did I mention? Great systems work!