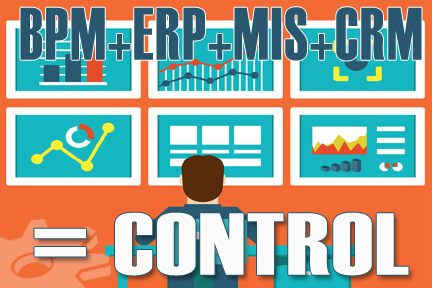 It's true, BPM + ERP + MIS + CRM = Business Under Control!
We often hear from small business owners, "I can't leave the office without my business falling apart". Sad truth is, many owners haven't the foggiest notion how to get their business under control. And yet, the answer is simple.
BPM (Business Process Management) + ERP (Enterprise Resource Planning) + MIS (Management Information System) + CRM (Customer Relationship Management) = YOUR BUSINESS UNDER CONTROL!
Years ago, I didn't have a clue about organization, and even thought disorder was normal in small business operation.  I guess, when you don't know, you DON'T know!
However, after reading a bestselling business book, along with other books, the answer came quickly.  THE ANSWER, for how to get a business under control!
I also learned it was very doable, but the journey to completion took years. We worked out all the bugs in our business systems by identifying root causes of each frustration that caused disorder and then fixing them.
As a result, for the past fifteen years, we've been helping other businesses work out their bugs to gain control of their business. In fact, those we've helped have been able to spend time growing their business.
Industries Differ, but Operational Processes are Similar
Over many years, we've developed intricate processes and procedures for Job Management Software and Service Management Software. As a result, System100 is used as a small manufacturing management software, job shop management software and field service management software. In addition, Restoration Job Management Software, Cabinet Shop Management and Printing shop Management are other industries we support.
We've discovered that an industry may be very different in product and service, but a process is a process is a process. In other words, a process is a step-by-step method of how to complete a task. We've become very experienced in asking the right questions and suggesting the best verbiage to get the process right.
Edward Deming said, "if you can't describe what you're doing as a process, then you don't know what you are doing."
Due to developing thousands of processes, we learned that having a BPM – Business Process Management Software or MIS Management Information System software doesn't mean controls are in place to stop errors and miscommunications. In fact, acquiring the software is the BEGINNING of the journey to control. Because, most BPM, ERP, and/or MIS software do not provide a plan nor the right coaching to ensure the software integrates with a company's current business operations.
For this reason, we built the DocDesigner™ for our software for editing the hundreds of documents we provide; our BRAIN TRUST to use as templates. Therefore, our clients can build an operations manual in a matter of months. Consequently, it reduces the time required to bring a business under control by a factor of years. System100 also has a Document Management System for document revision tracking. This system has become a favorite of our ISO-Certified clients.
The Song We Sing – "I Can Help" – Get A Business Under Control
We blog, write books, produce videos, and develop other materials. All that is to share, with anyone who will listen, how they can fix the problems in their business. Furthermore, we coach business owners on how to eliminate business frustrations and other non-conforming events, with little to no cost. However, it does take time and tenacity to do process improvement right, avoiding shortcuts. Otherwise, miss-implemented or unimplemented operational processes in a company guarantees that errors and miscommunications will be the norm. Stating it bluntly, if you leave gaps and holes in business systems, CHAOS WILL RETURN!
When the Main Brain is Missing in Action
Back to that statement made by many owners, "I can't leave the building without things falling apart." When the CENTRAL BRAIN is absent, the body (the business) does NOT function well. The owner is the central mainframe computer that employee's log into, for information to do their job. The simple reason is, the owner has never downloaded how their business operates into a written procedure manual.  Therefore, without a Procedure Manual in place, when the owner leaves the building there's a price to pay. Unfortunately, that price is rework, lost revenue, internal civil war; not to mention, general chaos breaking out.
A close friend said it like this, "A business without good systems is like a body without a central nervous system. Therefore, lots of loose nerve ends reach for something that doesn't exist."
A Video Producer We worked with said it like this:
"Philip Beyer has achieved a new standard in production and service. He's developed a method for not only improving production and service, but actually improving itself. This positive feedback loop guarantees that, as production and service improves, the system of improvement also improves. Therefore, it creates a system of improvement that is virtually unknown in most businesses."
In order to get to this positive feedback loop, all systems must be in place, working in concert. Remember…
BPM (Business Process Management) + ERP (Enterprise Resource Planning) + MIS (Management Information System) + CRM (Customer Relationship Management) = YOUR BUSINESS UNDER CONTROL!
The result, you can leave the office without things falling apart. Furthermore, you can do thing things you've always wanted to do, but could never find the time!

Did I mention? Great Systems Work!