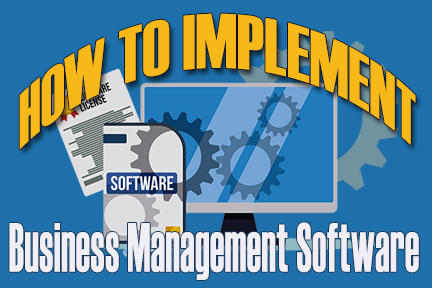 To implement Business Management software correctly, a systematic approach is KEY! Importantly, setting a goal and writing down step-by-step, the implementation process.
The good news is—shown here is a how-to guide for developing a step-by-step implementation process.
Computer Weekly reports on a new study that claims: companies have less than a 50% chance of successful business management software implementation.
Surprisingly, software developers claim, 64% of features in management software receive NO USE or RARE USE.
Truth is, ALL business software implementation has similar results. In fact, those who have tried Lean Management implementation know, Lean has a 98% Failure rate!
HOWEVER, we have found the key—and will share with you, how to SUCCEED at implementation!
Reasons for Software Implementation Failure
The reason is simple! Developing a SYSTEM for implementing software into company operations is rarely a consideration for most businesses. As a result, like other company projects, their software implementation becomes another loosey-goosy affair.
Stay with me, now—this is important!
The fact is, most business owners and managers—DON'T HAVE THE TIME—needed to implement complex/comprehensive management software. Simply because, they're BOGGED DOWN IN DAILY OPERATIONS.
Therefore, we HIGHLY recommend a Procedure Checklist for installing management software. More importantly, we also share here, some extremely effective systems for giving owners the time needed to oversee their software implementation.
NOTE: Implementing management software is NOT for the faint of heart; however, once implemented, the benefits are well-worth the effort.
Where to Start Management Software Implementation
1. Choose the Feature that Solves Your Biggest Frustration
Start by writing down your TOP 3 business frustrations. Imagine, ending your TOP 10 business frustrations PERMANENTLY.  Think how it would impact not only your business, but your life!
With that in mind, consider—what feature in the Business Management software will STOP that ONE frustration.
NOTE: To successfully implement business management software, we strongly encourage business owners, to take the leadership-role. Leadership starts at the top!
2. Contact Your Business Management Software Provider
Let's assume, you've listed your Top 10 business frustrations. At this point, you should contact your business management software provider to request they point out the software features that would FIX each frustration.
With that information in hand—first, request step-by-step training on the software's main administration features, i.e. Users Set-up, etc. Secondly, request training on EACH frustration-ending feature. More importantly, train FIRST on the feature that will solve your biggest frustration.
Note: This is a good place to choose an administrator for EACH feature; those delegated to participate in training with the software provider. To be sure, some employees will administrate more than one feature.
Furthermore, while in training, never STOP asking your software provider questions concerning ANY feature, until you totally understanding how to use—and administrate—the feature. Also, how the feature integrates with other features, to FIX a business frustration
All-In-One Business Management Software
You may find, your business management software doesn't contain all the features needed, to solve ALL your business frustrations. However, if it only has features to solve your Top 3 frustrations, you're on your way—to systematizing your operations.
Many businesses use two or three software solutions for operations. i.e. BPM Software and Accounting Software, etc.
3. Receiving Training on Business Management Software
As with many providers of comprehensive management software, training usually occurs in a compressed session—over two or three days. Sadly, with this "cramming-type" training, people forget MOST of what they've learned in Day-1, long before getting to the end of their training.
The reason they forget has to do with the human condition. This trait has been studied and documented, and is known as, the Hermann Ebbinghaus Forgetting Curve.
For this reason, we suggest asking the software developer to break down training into sessions of one to three hours. Moreover, spread training out over weeks or months, in order to absorb and implement what you've learned.
More importantly, ask them to RECORD each training session, so trainees can review what they WILL, no doubt, forget!
Our motto is, "We remove business frustrations, one system at a time!" Because, it takes time to implement even one feature, correctly.
How to Implement Business Management Software Checklist
Let's review the steps for how to implement business management software.
Choose the BPM Feature that will solve each business frustration
List ALL other Features that each Feature interacts or integrates.
List step-by-step, how to use the Feature for the company's purpose.
(Sometimes a control checklist is needed for using a Feature consistently)
Choose an administrator for each feature
List employees that will use each feature (For Permissions Settings & Training)
Once the administrator of a Feature is well-trained, they will train rest of the Feature's users.
How to Gain Time to Implement Business Management Software
To assure your Business Management Software implementation does not fail, we suggest a few other considerations.
You've heard the phrase, "Work on your business, not in your business".
Simply stated, you must develop an Operations Manual with written Business Processes and well-designed systems—for how the business operates from front to back. As a result, this enables employees to operate the business, so the owner can focus on GROWING the business.
With a systematized business, the owner has MORE TIME to pursue other goals and interests.
In fact, they can spend a year (as I did), if they choose; implementing a business management software that improves operations. Therefore, giving the owner even more time.
Did I mention? Great systems pay huge dividends!