Operations Manual Documents Needed for Business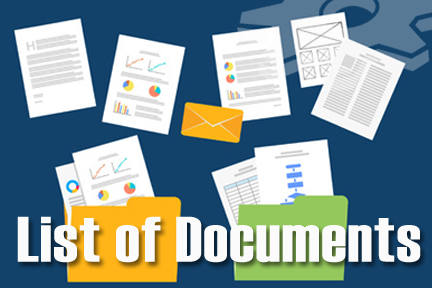 Below is a partial list of operations manual documents needed for a business to function smoothly. This list would seem overwhelming if you were starting from scratch to build these documents. However, our DocDesigner™ contains templates for these documents that are stored in our cloud "brain trust". Therefore, a business doesn't have to start from scratch. Because we've been building documents for over fifteen years. Hence we consider ourselves, experts in this field. Therefore we can help you hit the ground running in a matter of months. A point often overlooked is, an Operations Manual of this size and detail, would take thousands of hours of development. Especially, if starting from scratch.
.
No Need to Start From Scratch – We Have the Templates!
Company
History
Mission Statement
Ethics Statement
Organizational Chart
Trade Customs
Orientation for New Hires
Employee Manual
Critical Employee Polices-Signed by New Hire
Procedures-All Key Processes
Workflow
Equipment Maintenance
Equipment Operation Manuals
Website
Accounting
Customer Service
Production
Shipping
Scheduling
Sales
Document Management
Update/Change System
Numbering and Titling
Document Development
POLICIES
Employee Policies
Computer Use
Vacation
Overtime
Personal Phone Calls
Cell Phone
Policy Manual
Starting & Ending Times-Shifts
Employee Bill of Rights
Performance Evaluation
Work Out Room Use-Waiver
Customer Policies
Terms & Conditions
Rework Policy
Rush Fees
Vendor Policies
Outsourcing
Standards
Sales Dept. Policies
Commission Rates
Quality Control Checklist
Production Processes-All
Shipping
Delivery
Customer Service
Job Ticket
Control Checklist-Other
New Customer Setup
Customer Update
Hiring Interviews
Data Entry
Order Entry
Estimating
Building Maintenance
OSHA Inspection
Invoicing
Marketing Campaigns
Credit Card
Production Flags/Stickers/Labels
Equipment Maintenance Checklists
Production Equipment
Air Conditioners Units
Heating Units
Repair Request Form
Position Documents-Every Employee
Job Descriptions
Daily Routine Checklist
Bios-Certain Employees
Emergency and Security
Alarm System Operations
Emergencies Contact Numbers
Opening & Closing Procedures
Security Procedures-Locks & Keys-Control
Hazard Communications Program
Inventory
Equipment, Furniture & Décor
Software-License Codes
Educational Materials—i.e. Books
Inventory Requisition Form
Forms-Government
1-9
W-4
W-9
Separation Notice-State of TN
Injury or Illness Report
Occupational Health Treatment Form
Tax Exemption
Forms-Processes
Time Tracking Sheets etc.
Forms-Insurance
Teleclaim Workers
CompCompany Branded Documents
Letterhead
Envelopes
Business Cards
Brochures
Presentation Folders
Invoices
Authorization Forms
Packing Lists
The 100% System of Cleanliness
Cabinets-Label
Production-Labels
Bench-marking Charts
Sales
Productivity
Waste
Estimates Vs. Actual
Contracts
Employee
Sales Person
Vendor
Customer
Forms-Human Resource
Request for Leave
Absent/Tardy
Resignation
Check out Franchise Operations Manual Page and Videos Below