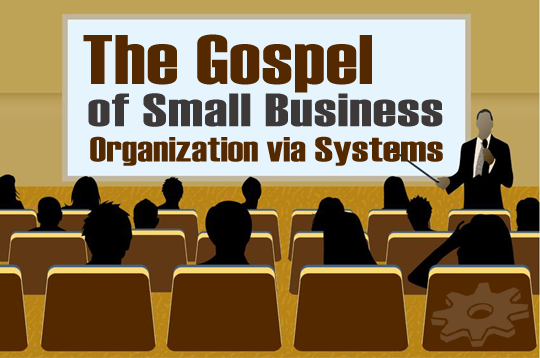 What is The Gospel of Small Business Organization?
This "gospel" (good news) declares, that implementing business systems, one at a time, to address every business frustration, will remove chaos and bring order to the operations of any small business—and in short order!
However, merely agreeing with the truth of this gospel—that organization via systems is the way—is not enough!
At some point, a small business owner must accept it, and walk in it, if they want to reap the fruit it brings. In other words, an owner must get past self-denial and fear of change. Moreover, they must reject the endless loop of "business as usual" (reacting to problems, rather than proactive action).
It's Time to Make a Decision for BPM
You need to get to know BPM (Business Process Management), and what it can do for you.
A sad truth is, many small business owners live on the other side of reason. They only HOPE that—eventually—order, peace, and true business success will just happen.
The GOOD NEWS is, this gospel, enacted, will OPPOSE any "author of confusion"; whether it's managers, employees, vendors, friends, family or some other entity.  Furthermore, an owner must stand against anything that hinders implementation of this gospel into their company.
The Gospel of Small Business Organization—order via systematization—is why many others and we say, "System100™ is The Organizer"!
A Book Changed the Course of Our Business
I accepted this "gospel" in 1994, after reading a book called The E-myth that shone a bright light on my disorderly business.  Michael Gerber, author of the book, said, "You're the problem, you've always been the problem, you will always BE the problem, until YOU change."
That spoke to me; and change I did!  I had a complete turnaround in the way I conducted my business operations. By and large, I addressed every frustration and error in our company. Then we developed a SYSTEM to prevent ANY "system buster" (non-conforming) event from recurring.
Other Disciples of Small Business Organization
Since that watershed moment, I've discovered other disciples of The Gospel of Small Business Organization, including: Edward Deming (Quality Productivity), Jim Collins (Good to Great), Eliyahu Goldratt & Jeff Cox (The Goal), Dave Ramsey (Financial Peace), Paul Ackers (Lean Manufacturing), Walter Shewhart (aka the "grandfather of TQM"), and many more.
I put The Gospel of Small Business Organization to work in my businesses, and I'm a witness to the fact that it works!  It changed my employees' lives, and even my family's lives for the better!
I was so inspired by this systemized approach to business, I wrote a book about it, titled System Busters: How to Stop Them in Your Business.  Since 2011, I continue to BLOG regularly, sharing this good news and its effect on businesses around the world.
Here are a few examples of those blogs that might interest you: How to Build an Operations Manual, Wimpy Bosses, Leadership from Ordinary to Extraordinary, Ruling by Consensus, Non-Biased Business Systems,  Organization Thru Systemization.
To some, I've become The Gospel of Small Business Organization via Systems "bible thumper!"
I hope you'll take that as a good thing!  Your business matters—and it matters to me!!
"Seek and you will find," the Gospel says.
Did I mention? Great systems work!