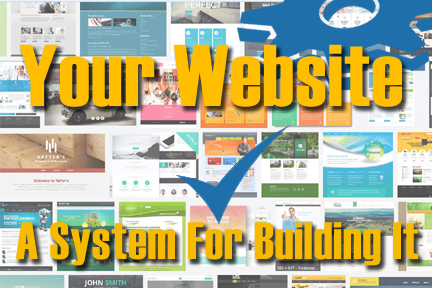 When visiting another company's website, it's easy to be critical about its designed or how "unfriendly" it is to maneuver. However, we all need to take a hard look at our own website, to ensure it meets high-standards. Therefore, leaving the results to chance is not an option when building or updating a website. Moreover, building it right, requires using a business website checklist.
As many of you know, we are big proponents of systematization via written control checklists. This is what removes loosy-goosy methods of completing processes. Thus, we've come up with a list of items to consider for a Business Website Checklist.
Consider What Our Website Says to Visitors at First Glance
More importantly, does it say, "WOW… high-tech…professional…thought-provoking…informative…and I want to look around for a while"?
OR, is its message, "Out-dated…lack-luster…Where's the beef? NEXT!?"
Business Website | Most Important System for Marketing

It may be the most important source of information about WHO and WHAT you are. In addition, it demonstrates your service and/or presents your products. Moreover, it gives credence to your company's emphasis on quality, integrity, reliability and excellence etc.
For this reason, a while back we took a long hard look at OUR System100.com Website and we made the decision to over-haul our Business Website. The target date set for launch and rebuilding began.
More importantly, we turned to systems to initiate a plan of action!
For us, that meant creating a DETAILED CHECKLIST that included every facet of the project. Therefore, ensuring accountably of our personnel's use of time and resources.
The Reconstruction Team
By the time we committed to rebuilding our website, we had a good idea of WHO and WHAT skills would be needed to put our best face—our brand—out there for all the world to see.
I highly recommend finding strongly motivate people inside and outside of your organization who understand and appreciable your product(s) or message. In addition, they should be creative people, artistic, idea-driven, innovative, and with a fair amount of computer-savvy. In fact, it would be a benefit, if you already had some staff members skilled in graphic design and copy writing! However, if you don't have that type staff in-house, there are great websites who host these type skills at an affordable cost. As a matter of fact, a site we've used for several projects is 99 Designs.
We were also able to go outside our company and brought in three senior Marketing students from Vanderbilt University in Nashville. Whereby, they gave us some excellent marketing suggestions for the Site, as well as some tips on the very latest technologies.
As a result, keeping our cost to a minimum using a cohesive in-house team coordinating with certain outside help, and our own programing team.  As a result, the project we dreaded becoming a long, tedious and costly undertaking, turned out to be an eye-opening adventure.
IN with the New | OUT with the Old

As we began, each team member evaluated and scrutinized the old Website. Therefore, all pages, sections, items, menus, graphics, hyperlinks, colors, and content was gone over in detail. Whereby, we determined what needed updated, edited, added, enhanced, or eliminated, etc.
Questions Needing Answers Concerning our Website

1. Does it represent our business, product, message clearly?
2. Is it interesting enough to help us in "selling" our product or message?
3. Is it visually eye-catching?
4. Is it long on flash, but short on informative content?
5. Does it need more flash?
6. Is the content provocative enough to hold a visitor's attention?
7. Is it educational?
8. Is it easy to navigate—"friendly?"
9. Is it on par with other Websites, especially competitors?
10. Does it convey to our visitors how important they would be as clients?
11. Is the copy written in concise, well-worded text—no typos?
12. Is the information honest, current, easy to access?
SEO – Site Engine Optimization is very important and detailed, therefore we will address it in another blog.
Planning – New Website
After the team did their scrutinizing, we brought all ideas together to determine the visual and verbal statement we wanted to make with the NEW Site. In addition, what elements to include that would take it to the next level.  We discovered that, using some simple techniques, and using programmers, a Website becomes an amazing tool for marketing. Example: Allowing visitors to signed up for a video demo of our product. Additionally, capturing their business information, automatically sending them a special link via email, so they can view our video demo privately, and on their time-table. 
New Business Website Checklist
Once we had a plan and a target completion date, we developed a detailed control checklist of the steps in the process, including the elements in design and content of the new Site. As a result, we checked off each PROMPT / TASK when completed.
We mapped the entire process of rebuilding—conceptualizing the look and message of the new Site. In addition, we choose a team-leader for accomplishing the various tasks to bring it all together and moreover, complete it. Therefore, by the time it went live, we checked, rechecked, proofed, re-proofed, considered and reconsidered, every detail of our new Website. Because, it was the window to present our business our brand to the world. Moreover, it was our marketing tool that would bring prospects to us, versus us going to prospects, our potential clients.
We accomplished the entire project was using a Business Website Checklist. Nothing done haphazardly, nothing left to chance, and therefore, nothing forgotten.  Each member of our team had a say in the final design and copy. As a result, everyone was a unanimously satisfied with our New Business Website.
We were excited and proud to see our new Website go online.  Of course, we're all about continual improvement, so we appreciate visitor comments.
Most Important…
We hope the MESSAGE we systematically crafted into our Site is clear and beneficial to other businesses, our staff, and especially our clients.
Did I mention?  Great Systems Work!