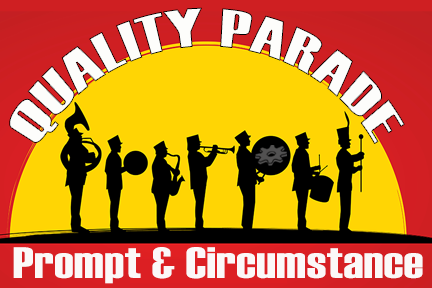 A "quality parade" is the result of defined PROMPTS, creating a circumstance of order in business. In other words, it publicly displays quality service and products by an interacting group of systems, which leaves nothing to chance.
Furthermore, it's where QUALITY is not a slogan, but a proven fact.
Without defined PROMPTS, there is no "quality parade," just a chaotic circus of clowns running to and fro responding to chaos.
There, you'll find employees and management running around putting out fires caused by never-ending, non-conforming circumstances.
Sadly, in this type atmosphere, circumstances never change, other than the revolving door of lost employees, and new hires.
What is a Business Workflow Prompt?
A prompt simply helps or causes something to happen.  Moreover, a WELL-DEFINED PROMPT assists in bringing about action for each step in a business process or event.  Whereby, a CIRCUMSTANCE OF ORDER is the result.
Think of times when others prompted you to action for various events. Like, your mother telling you daily to brush your teeth, clean your room, or take out the trash.  A teacher, reminding you of the importance of completing homework or reading certain books.  Or, a boss prompting you to improve your work habits.
In fact, one of our employees was so impressed with how defined prompts improved our business, he made a chart for his two grade-school children.  He listed defined, daily and weekly prompts to complete certain chores or actions. He shared with us how great it worked. "A system so simple even a child understands."  In addition, he said the charts reduced a lot of stress for him, not to mention his wife.
What Makes-up a Quality Parade?
"Quality" consists of more than just quality service and products. Quality involves every aspect of a business. I.e. cleanliness of offices and work areas, maintenance of vehicles and equipment, etc.
A "quality parade" incorporates a procession of systems all marching to the same beat.  In this parade you will find systems for, Quality Assurance, Employee Daily Routines, CRM (Customer Relationship Management), Preventive Maintenance, and Human Resources, etc.
As in all parades, you'll find a few clowns; however, they still move forward due to the momentum of the march, to zero errors and what I call, a symphony of order.
The best news about a parade of systems is, an owner doesn't need to march at the front of the parade to keep order.  In fact, once implementing well-defined systems, an owner can become a spectator and enjoy the view from anywhere.
Did I mention? Great systems work!