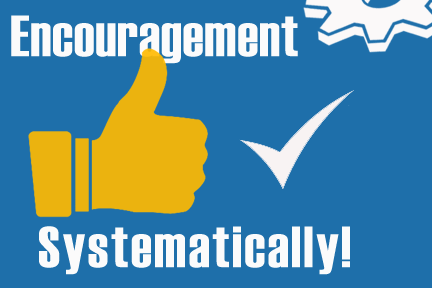 It's good to encourage employees, especially when things are not going so well in the economy and your business!  Genuine encouragement, not just off-handed "At-a boys," tends to bring out the best in them, and enhances productivity. It's also important for business owners and managers to learn to encourage ourselves!
It may be "3 steps forward and 2 steps back," at times. But, how we deal with setbacks will determine whether we will be overcome, or be over-comers!
Setbacks are sometimes due to a person's emotional or mental makeup, and unless that's dealt with first, things may only get worse.  Motivational speaker Zig Ziglar called it, Stinkin' Thinkin'.  It's what can hold any of us back from reaching our goals.
Discouraging Stinkin' Thinkin'
We need to deal with "stinkin' thinkin'" with the same vigor as a business should deal with issues such as poor quality, or a lack of sales. STOP IT!
An ancient king named David was known to say "I encourage myself," when no one else encouraged him. With many enemies, things around him often looked bleak and he found himself running for his life. The way King David chose to encourage himself was through his faith, which I believe is a great place to start.
There are many resources at our disposal in today's information world. I suggest you seek out books in print, e-books, audio books, print and online magazines, articles and blogs. Today, many top universities also offer free online courses on any number of subjects.
If you're a salesperson and sales are down, there is an infinite amount of material out there to help you find inspiration and encouragement. As a business owner, dealing with tighter margins and other hurdles, you'll find resources abound to help you deal with those issues and many others.
Encourage Yourself Systematically | Reap A Harvest
For nearly a decade, our company had outsourced some of its cleaning maintenance to a young man named Jeff. I had come to know and appreciate him personally, as he was very loyal and efficient.  Due to the economic downturn in 2009, Jeff lost nearly all his top accounts, mainly commercial printers. Our company struggled through the same downturn. For about two years we had to stop using his services altogether.  Only recently have we started using his services two nights a week.
I can tell you, Jeff was discouraged during that time, and I felt badly about that. But, he had taken to encouraging himself, like King David. Recently, Jeff shared how he had survived the setback, after he had come to a decision. "Sir, my house sits on about five acres, and I decided to plant a large garden, and started raising some chickens!"
Jeff had begun studying gardening, and over the past four years has apparently become quite the expert. He and his wife now grow most of their food; and they sell any excess.  Jeff even built a greenhouse, where they can grow a garden year-round.
Online College Courses Bring Encouragement
Jeff is currently taking free, online college courses to help grow what has become his new found business.  I was happy to hear he had also read my book System Busters, along with another business book titled The E-Myth. He has become very interested in business systems and the process of continual improvement.  He sounds so on-fire and inspired, he's now an encouragement to me, as well!
During that same period, when I was forced to cut back on our cleaning maintenance, we also had to lay off many employees. One of those was a very good pressman who called to tell me how he was dealing with his setback. He said he had immediately started delivering pizzas at night. He also got a part-time day job working on small engines. At the same time, he had begun taking medical classes to become a nurse. He is now a full-time nurse, really loving his new career, and very encouraged about his future.
Change Can Be Hard, But Also A Good Thing!
It's all about attitude—the ability to encourage ourselves to keep stepping forward, no matter what it takes!
If you have read some of my blogs, you know I'm a strong advocate of giving employees the tools they need to do their job without constant supervision, i.e. Daily Routine Checklists, Quality Control Checklists, Procedures, Policies, Preventative Maintenance systems, etc.
To distribute these job-enhancing tools at our own commercial printing plant, we use System100®, our browser based software.  We also use this software to systematically encourage employees, by giving them access to hundreds of articles with self-improvement tips and other materials to help with their job performances. These tools can be accessed 24-hours-a-day, and we continually add new resources.
My book System Buster: How to Stop Them In Your Business talks about the use of Daily Routine Checklists for all personnel.  It's a simple thing to place a prompt on a DRC, to remind someone to read or listen to encouraging materials, regularly.  It's especially helpful to get the input of those who have been through setbacks of their own, and how THEY overcame them.
A system of continual improvement should include not only our work, but also our attitudes and education. It starts with determination that says, "I will overcome—and like old King David and others, I will ENCOURAGE myself!"
Did I mention? Great System Work!