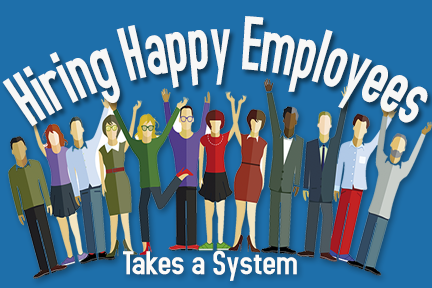 A system for hiring is what separates average companies from great ones!
Few companies consistently hire and maintain happy employees eager to serve. Sadly, many companies hire employees seemingly unaware of the importance of "service with a smile." Yes, a good system for hiring identifies and stresses that!
Make NO mistake; companies with the best employees, who consistently demonstrate good attitudes, continually update and monitor their system of hiring.
We proved this in our businesses, by building such systems and watching them work.
As a regular patron of Chick-fil-A and Dutch Brother's Coffee, I rarely see any employee look as if this is the last place they want to be, or making people feel less than welcomed. In fact, most of the employees at these two companies go out of their way to make certain you feel appreciated.
Dutch Brother's trains their employees not only to serve, but also to engage customers in friendly conversation.
Types of Systems for Hiring the Best Employees
When building System100's system for hiring, we spent hundreds of hours developing checklists, procedures, and policies, etc. for the various aspects of hiring. This adds value to a company's operations manual.
We first developed a document called The Profile of an Ideal Employee. Importantly, we listed the characteristics of an employee we wanted working in our company. Their personality, work ethic, dress appearance, interest in teamwork, etc.
Another step was to develop the New Applicant Interview System. This checklist system ensures leaving nothing to chance during the interview process.
Why is this important?
I'm sure, as a busy owner, you've interviewed new applicants when you're tired or in a hurry. Later, you realize your questions were inefficient at best. Or, in reviewing applications, you had forgotten to note what you asked a particular applicant.
Therefore, an updated application, along with an interviewing checklist with the latest revision date is a no-brainer.
However, most businesses use the same application for years, with no thought of updating to follow current laws or other important information.
The System of New Hire Orientation
Importantly, the New Hire Orientation System is a MUST for enabling a newly-hired employee to hit the ground running. After completing their orientation, the new hire is fully-equipped to understand company procedures and policies; theirs and others' responsibilities, etc. This is one of the most comprehensive systems we developed for small business.
If interested in building a great orientation system, CLICK HERE for more information.
Did I mention? Great systems work!