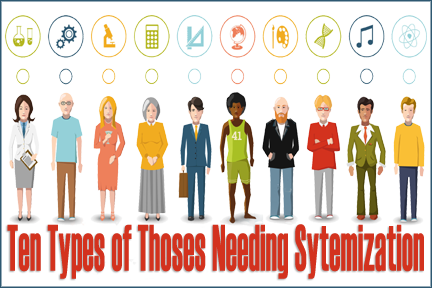 Are you one of the Ten "THOSES," businesses needing systems? One of those owners who struggle daily, lacking systemization in your business?
Countless business owners dream of those big returns on their investment of time and money, blood, sweat and tears. Fortunately, some of those reach their highest goals; however, many more struggle daily in dire need of more productive and efficient systems to help them grow.
Think of job shop management, field service management and all those small businesses needing organizational systems to grow.
Below is my list of those needy businesses, those business OWNERS, who would benefit greatly from systemization.

Are you one of "those" businesses needing systems?
Those who are tired of constant interruptions from employees and others. They can't do their own job; the work of monitoring the company's mission and ensuring its growth through new client acquisition.
Those who are drowning in internal business chaos, due to a lack of written processes for their operations.
Those having an un-civil war inside their business. Those "wars" happen where no written standards are available by which work. Moreover, there are no standards for how employees are to behave in certain situations. Finger pointing and arguments ensue and small skirmishes break out, becoming a not-so-civil war between management and workers. Sadly, it pits workers against workers.
Those who smell of smoke from the "firefighting" they endure every day in their business. The operations of those businesses are shoot-from-the-hip, at best! These owners need good fire-retardant business systems to prevent such fires from igniting in the first place.
Those who envision owning a business, not just having a job with all the "non-benefits" of ownership. The dream of having complete control over all aspects of a business has escaped many owners.  Problem is, they keep all the business processes (the information that makes their business work) stored in their own head, because they've never downloaded that information into a written operations manual. Downloading would make that crucial information ever-available to their employees, without the owner's constant presence.
More Businesses Needing Systems
Those who envision having the opportunity to do the things they've always wanted to do, but never can find the time. For example, restoring an old home, having a getaway farm in the country, restoring an old car or a trip around the world.
Those who envision being an absentee owner, with their business as another investment in their portfolio.
Those who enjoy working IN their business, around their employees, interacting with customers, with a hands-on approach to business. Therefore, enjoy their peaceful, orderly environment, having eliminated all disorder in their business.
Those

who are passing their business on to the next generation and desire to leave their heirs with a business well organized. In addition, they want to avoid family feuds, due to the chaos and disorganization found in many small businesses?
Those who want to avoid systems walking out their door. This awkward dilemma happens when a business hires someone who is self-organized and has a natural tendency to use a systematic approach to their job. In addition, they're held in high regard and highly recruited by most businesses; because, constant supervision by the owner to do a excellent job not needed by this type person. HOWEVER, when this type of person decides to leave for another position, they take with them in their head all the organizational tools they implemented and used, to be successful. Therefore, avoid this left-high-and-dry-situation with a written operation manual. One continually updated with innovative ideas for improvement. As a result, if this type employee leaves, the person replacing them has a clear job description with processes and procedures in place, to hit the floor running.
Did I mention?  Great Systems Work!