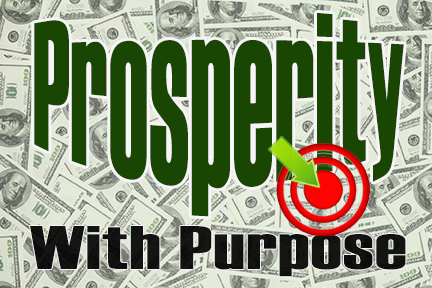 Prosperity with purpose is vital when making the decision to start or acquire a business!
Questions for you:  What purpose would inspire and motivate you, year-after-year, to embrace the adversity that WILL come with business ownership?
Likewise, what purpose motivates you, an experienced business owner, to continue battling the ups and downs of business?
Most would agree, financial and personal independence are primary motivators for business ownership.
Considering that, when leaving a twenty-year career in the music business in 1988, my core reasons for starting a printing business from scratch, were as follows.
Three children needing a father at home, NOT one traveling the country performing over two hundred dates a year, seeking fame and fortune.
A desire to make enough money to send two of those children to private school, where they would receive a quality education, no longer offered in most government schools.
Having weekends and holidays to spend time with family and volunteering for church and other activities.
The opportunity to use my extensive knowledge and experience in management, learned in the music business. In addition, the chance to utilize my printing experience from working several years in the print business, before going full-time into music.
Like most who decide to take the leap into business ownership, financial independence and having personal time were key motivators.
Again, this all sounds good, but when reality strikes, the PURPOSE for seeking prosperity through business ownership had better hold up under pressure. It will come!
Business Ownership Meets Reality
For me, starting a new business was scary and exciting, all at the same time. After leasing a small space and purchasing the necessary equipment to launch a very small printing business, the next challenge was getting sales.
As a new owner with one employee (my oldest son, a senior in high school then), it was time to hit the streets, making face-to-face cold calls. With little money in the bank, time was of the essence to make a profit.
Thankfully, making personal appearances as a performer was familiar territory. Dressed in my best shinny entertainer's cloths, and jumping in the old BAND VAN, the mission to fulfill my purpose was now or never. Whereby, visiting countless small business in a five-mile radius of our shop was a daily occurrence.
Almost laughable, my first business card was printed by another local printer, as my equipment was still not completely set up. However, never forgetting my PURPOSE for making door to door sales calls, those print orders started trickling in.
For example, with my first order for 500 printed envelopes in hand, I quickly drove back to our small shop and processed the order from start to finish, even training my son to print the envelopes on our small Hamada press. Later, I proudly delivered them back to our new customer with invoice in hand. Mindful of my ever-present purpose, failure was not an option!
I repeated this Mom & Pop selling method day after day, until sales started coming in by phone and fax. Moreover, walk-in traffic picked up, to use our newly-acquired copy machine.
Consequently, no longer able to leave the building due to new sales, it seemed PROSPERITY was just around the corner!  A blessing from God for sure!
Another Dose of Reality
Now, as "chief cook and bottle washer," my plate overflowed with seemingly endless things to do. Consequently, our effort to fill new print orders began falling through the cracks.  Sadly, my promise of "great quality and service" became just a slogan on my business card.
Fact is, we had NO way to assure the promise of on-time delivery, much less quality. In spite, of hard work and commitment, "prosperity with purpose" felt like an unattainable dream. You see, we had grown from just my son and me, to five employees. Soon, the ole enemy CHAOS set up shop in our shop.
Thankfully, via a friend's gift, exposed was the MYTH that entrepreneurs, like me, are just naturally good business owners. Truth is, most entrepreneurs are NOT good managers, due to the fact that many have their heads in the clouds. These "big picture folks" disdain or have little knowledge of the mundane, albeit essential, processes of business management systems.
With my friend's gift book as a guide, we went from 5 employees to 25 employees, in just a matter of a few years. More importantly, we were able to guarantee on-time delivery of QUALITY products at a MEASURED rate of 99.8%.
Now that's prosperity with purpose!  It's all the book.
Oh, did I mention?  Great systems WORK!