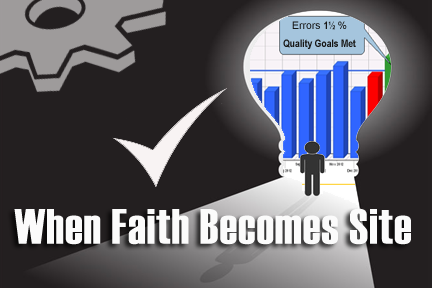 Phillip Crosby, a quality consultant defined quality as "being in conformance to our customer's requirements, which is accomplished by doing things right the first time."  As a "Quality" preacher/evangelist for over 25 years, I am adding another element to Phillip Crosby's cost of doing things right the first time argument. Moreover, it will concern measuring non-conformance, and its consequences.
"When faith becomes sight", a line from an old 19th century hymn I heard recently, that reminded me of many conversations I've had with small business owners, concerning how to fix the frustrations in their business. Additionally, we share with them, due to Lack of systems i.e. quality control systems, the result will be poor quality and rework.
The Price of Not Being in Conformance

According to Phillip Crosby, quality is measured by PONC (the Price of Non-Conformance).  In an article, The Profit Gauge by Gordon Rivera's, he mentions, quality is free (because you are getting paid for the product or service). Therefore, doing something OVER again eats into your profits, and IS, likewise, the COST of quality. His formula is, X equals all the cost of doing things right, and Y equals all the costs of having to REDO things… then X+Y divided by X equals CTR (Complete Transaction Rating). This simple formula measures the cost of making a product or delivering a service.

Business Owners Guess at PONC (Price of Non-Conformance)

Many times, when talking to business owners and managers concerning lost profits due to jobs having to be reworked, I'm no longer surprised to hear them say, "I don't think we have too much rework!" OR, they take a wild guess at the amount. Many have no clue as to the COST of non-conformance issues that plaques and frustrates them daily.
When I ask them about MEASURING non-conformance, most say they don't measure; but, many claim, they're pretty sure their guess is accurate.
Guessing is Faith in Stupidity! | I Should Know
The COST of rework STUNNED me when I received my first real report. In addition, the cost of other non-conformance plaguing our company also shocked me. This ACCURATE report of cost became a reality, because we implemented a SYSTEM for.measuring non-conformance.
Therefore, MY guesswork was completely wrong. In fact, most of the dollars lost were NOT due to rework, but to the OTHER non-conformance. For example: wrong shipments, wasted plates, downtime due to waiting on materials that someone had forgotten to order, etc. In fact, did you know there are Nine Types of Waste in a small business? Each of those can be fixed with a system.
You see, our system for measuring non-conformance took OUT the guesswork. Moreover, our blind faith had become actual SIGHT. Therefore, with 20/20 vision, we were able to FIX non-conformance issues that were depleting our profits.
Many times, we suggest to owners and managers the need for quality control systems to reduce non-conformance in their businesses. Sadly, they balk at the idea and complain that, "Quality Control Checklists are nonsense and they take too much time!"
Truthfully, these are the same people who had NEVER measured the cost of non-conformance. Therefore, they really don't know what price they pay for poor quality. Consequently, they don't know the REAL cost of their product or service.
Blind Faith is Costly by Not Measuring Non-conformance

It takes an effort to measure quality. Moreover, it takes an effort to find the root cause of poor quality. In addition, it takes persistence and an effort, to install systems to stop poor quality caused by non-conformance.
However, having spent two decades removing stupid errors by implementing control systems, I can assure you, the cost of systems that measure non-conformance is a small price to pay for your SIGHT! In fact, many business owner are seeking small manufacturing management software and field service management software as part of their overall goal to stop non-conformance in their business.
In conclusion, it's a small price to pay for having a reputation for high quality and great service!
Did I mention? Great systems work!