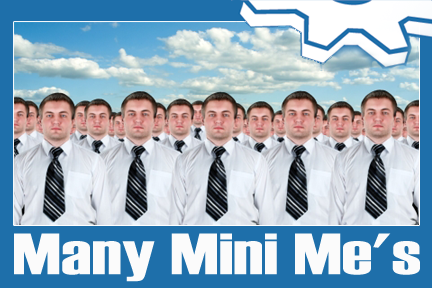 As the founder and visionary for my business, like other owners I might wish I had many mini me's, like more workers on the job!
Think of it, a large contingent of YOU's in your business. All on the same page, all on board with your vision, and raring to give it 100%. A wave of forward motion and unquestioning teamwork! Yessss!
Believe it or not, there is a way to make that happen, and you don't have to hire more workers!
MARKETING in today environment changes rapidly, and it takes an effort to keep up.  Lately, I've pulled out all the stops on my own marketing efforts, and have compiled a growing list of TO-DO's on marketing, some of which I'll share with you here.
Below are some of my recent activities:
— Negotiating air time and writing ads for AM, FM, and Internet Radio campaigns in certain strategic markets.
— Working with graphic designers and selecting mail lists for direct mail campaigns.
— Setting up new auto responders for clients and vendors on our Websites.
— Working with a voice artist for our audio book, and setting up the digital book on Amazon.
— Overseeing our paid clicks campaigns on Google, Yahoo and Bing; creating banner ads for many highly-trafficked Websites in order to increase our traffic.
— Working with designers and programmers on re-skinning our online printing Website, so its better suited for mobile phones and other devices, as we just learned that half of our traffic is coming from mobile devices.
— Writing systems, and hiring people to put feet to certain online and offline marketing efforts.
— Getting ready for our new podcast to be launched, hopefully, in the next few months, by creating content and purchasing all the necessary recording equipment. Also setting up a Website to stream RSS feeds, blogs and show notes.
— Improving our current direct sales system with our new sales manager.
— Writing blogs
Creating YouTube videos with our video people
Hosting and attending Webinars
Speaking for seminars or conferences
Overseeing social media efforts
Learning all about SEO for Websites
Meeting with direct salespeople, etc, etc.
That's just some of the marketing efforts needed to grow a business in today's world!
Just now, I'm thinking how nice it would be to have many more hands!
Many "Mini-Me's" To Get It All Done

And how about all those OTHER things business owners are required to do as they oversee daily operations. There are many considerations, like cash flow, tax issues, sales, production, equipment acquisitions. Then there's new technology trends, government regulations, employee concerns, building maintenance; not to mention pricing issues for buying and selling, etc.
But wait! There more!
Of course, you get a lot of help as a business owner. Suggestions for what YOU can do come daily from employees, consultants, media, and the government. Even family members and friends give constant input about what to do, so you'll have a successful business.
Cloning Yourself For More Productivity
As a business owner or manager, do you ever wish you could CLONE yourself into about ten MINI YOU's?  Even THAT might not be enough to handle all of the "Have-To-Do's," "Should-Do's," and "Wanna-Do's."
Consider how any small to mid-sized companies could possibly implement and sustain the thousands of these TO-DO'S, to compete in our fast moving world. There is a on-going barrage of new information and ideas for improvement you, as the own, are supposed to assimilate.
No wonder business owners' eyes glass over, and that they might want to hide under their desk, when someone stops by to share a new idea. And all the more, when they attend a seminar with a "Rah Rah" boy, touting the LASTEST fad to grow a business: "It's a MUST SEE and a MUST HAVE!"
Yes, I am one of those people shouting from the rooftop, pleading, and begging owners.  "CLONE yourselves into MANY MINI ME's," in order to do MANY times more than mentioned in the above paragraphs.
I Know For A Fact—It CAN Be Done!
However, to do it, you must FIRST do a "Brain Dump."  That is, downloading (out of YOUR head into written systems) information about all the things you do in your business. Many are tasks you shouldn't HAVE to do, or don't WANT to do, but could delegate to someone else.
By having access to your written systems, another person can do a task or process as if YOU were doing it yourself—a veritable MINI YOU. And YOU can be replicated MANY, MANY times over. But, you don't just need more workers, you need the power of systems.
Admittedly, some might think more than one YOU could be a scary proposition! However, I suggest you give it a try.
You might discover, you finally have time to go on a special vacation to that exotic place you've been promising your spouse.
Did I mention? Great systems work!