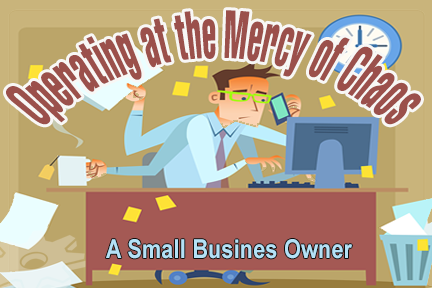 Businesses operating at the mercy of chaos soon discover a multitude of issues that make life less than satisfying.
Chaos shows NO MERCY and is relentless in its pursuit of bringing down a business. That said, consider who is the author of confusion.
To be truthful, we once met a business owner who shared with us that he "thrived in chaotic turmoil." He said it kept him invigorated.
Hmm! Few can relate to that type of stimulation.
Nevertheless, for those of us who enjoy, or are looking to enjoy, a well-organized peaceful environment in business, THIS BLOG IS FOR YOU!
Examples of merciless chaos from which business owners suffer;
Phone calls from the office within minutes of leaving the building, reporting problems.
Disgruntled employees due to managements confusing operational methods.
Errors causing stress on personnel and the bottom-line.
Customer turnover, due to inconsistent quality of product and service.
Employee turnover attributed to poor business culture and management favoritism.
Deadlines not achieved in product and service, caused by operation bottlenecks.
Working long hours because of ineffective delegation.
Cluttered work-spaces, due to no system of cleanliness or lean management.
Absentee employees, due to lack of policies and poor hiring practices.
Does this list above sound at all familiar?
Solutions to Stop Operating at the Mercy of Chaos
Most small businesses have various types of software or other solutions they rely on to bring some manageable order to their business. For example: accounting software, spreadsheets, manual forms, or industry specific software for tracking work or service.
However, very few small businesses operate with solutions, like big-box stores and other large businesses—simply because, most small business owners don't realize they can. In fact, many small business owners believe large business-type systems are unattainable, due to cost and sophistication.
Truth is, it's NOT true!
How do I know? By reading books on management systems and implementation!
But more importantly, by making the decision to APPLY the valuable information we found. AND, not wimping out because of opposition from others and when it seemed too tedious.
In other words, we never gave up on systematizing our business.
Fact is, after spending years learning, tweaking, and training our employees on systems, we no longer operated at the mercy of chaos. Now we train others with easy-to-learn and easy-to-use, life-changing Business Process Management software. Also known as BPM software.
Did I mention? Great systems work mercifully!