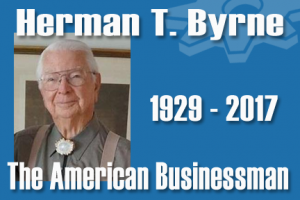 What makes up the quintessential American Businessman? Who is he?
This is not hard to answer when you've met and gotten to know one!
My candidate would be Herman T. Byrne, maternal grandfather of my son Brandon Beyer. This American Businessman and entrepreneur left us only days ago, and arrived at his new assignment.
Herman Byrne was born September 5, 1929, just a month before Black Thursday. Anyone who knows anything about business or American History has heard of the Stock Market Crash of 1929; not to mention, the onslaught of the Great Depression.
Those were hard years for the Byrne family, in Jackson County, Tennessee, working the land on their rural farm. But, whenever I heard Herman T. recollect those years, I got the distinct impression it was the only place any kid should grow up. And grow up he did!
Honor and Distinction for The American Businessman

Herman T. Byrne's mother and father, as Brandon and I heard him recall, were not only hard workers, but they were known around Jackson County as people of high honor. When they said something, it was as good as any written contract.  In other words, their word was their bond; moreover, an agreement they would never break. It wasn't based on feelings or relativism that changed with every new wind. It was based on the trust they had established among the community; a sacred trust learned from their parents and attending their local church.
My son Brandon and I had the privilege of hearing Herman tell about his life. He had some hair-raising experiences, hauling hay on an old truck with no breaks, up and down steep hills in rural Tennessee. He said he did that hundreds of times. In fact, he said he loved it, despite other farmers telling him he was going to kill himself if he didn't stop.
It sounds old-fashioned, but, yes, Herman milked cows before he walked to school every morning; and in winter walked to school in the snow. This is not your typical, hard-working "I've-heard-that-a-thousand-times" metaphor told by an older generation, but a real-life story, based on truth.  Those were the humble beginnings of the life of an American Businessman, and his journey to success.
The Foundation of a person is Key to Success

After attending David Lipscomb College in Nashville, Herman returned home to Gallatin, Tennessee.  For the next few years, he worked as a dairy farmer. Then came his big break—the one that would set the course for a whole new world for the American Businessman.
The American Businessman and the W.T. Grant Co.
W.T. Grant Company was one of the early national chain stores, established in 1906; growing to around 1200 stores at its peak. Grant closed its operations in 1976. Herman T. Byrne had gone to work for Grant in 1954, becoming one of it youngest and best store managers. Later, he became District Manager for the Southern Region, managing several stores, also appointed to the Managers Council for the entire company, before resigning.
[Clarion-Ledger | Jackson, Mississippi | News Article 1958]
When managing a W.T. Grant store, you were not only responsible for employees and inventory, etc., but also for much of the marketing and growing of sales for your location. Of course, there were incentives for Grant managers, like the time Herman won a 1957 Studebaker automobile for the highest sales in his region for a given period.  I'm not sure my son Brandon even knew what a Studebaker was, but we both loved hearing Herman tell such stories. Herman's good humor always made them very entertaining and informative for the two of us—also American businessmen.
Colorized Sheep | A Marketing Bonanza
One of his marketing ideas—to sell a huge lot of different colored wool blankets for his Grant store—was to borrow some sheep from a local farmer, for a few days.
Raised on a farm, Herman's experience with farming and farm animals enabled him to form a bond with the local farmer and gain his trust. In addition, he could communicate to the farmer, just what size sheep he needed and other pertinent information concerning caring for the sheep.
The local farmer said he had just the sheep Herman needed, and was glad to be a part in helping W.T. Grant.
"Is there anything else I can do?" the farmer asked.  "Yes," Herman said. He would need a special kind of feeding trough and feed. The farmer said he had just that kind of trough.
Then the farmer asked, "Is there anything else I can help with?"
"Well," Herman said, "Can you DYE the sheep?"
At that point, the farmer fell silent for a minute, then he said, "Herman, can you supply the dye?  I have a large water container we use to soak the sheep in, to remove lice. It would be perfect for dying sheep with the assorted colors you mentioned."
Now there's a marketing plan!  That one marketing idea brought in thousands of customers, not to mention, record sales of wool blankets, in assorted colors, like the sheep!
Our American Businessman Goes Home – To His Own Business

After 20 years with the W.T. Grant Company, Herman Byrne resigned and returned to his beloved Tennessee. However, still endowed with the entrepreneurial spirit, our American businessman bought Newport Hardware in Newport, Tennessee, which he and his wife, Ruth Byrne, operated for 15 years.
New Port Hardware also became a success, due to Herman's down-home ways and skills that blended well with the local population. He also loved working his magic in his home garden, and sharing "secrets" with his hardware store customers—especially, on the best ways to grow great tomatoes.
Herman was an American businessman and entrepreneur, always attuned to opportunities, whenever they presented themselves.  He even purchased various rental properties around Gatlinburg, Tennessee—one he named The Aspen House—to add to his and Ruth's revenue stream. Additionally, he oversaw all the up-keep himself. Herman was active in business, home and family right to the end. In fact, he purchased another rental property, just a few weeks before leaving. That's optimism!
My son Brandon was able to spend a few hours with his grandfather, a few weeks ago, telling him, "I'm so proud of you, Granddad—you were a great role-model for me growing up. I love you, and I'll see you real soon!" This, from another young guy coming up as an American businessman!
Herman Tittle Byrne, a quintessential American businessman, age 87, passed away at his home on June 16, 2017, surrounded by the family he loved, including Brandon's grandmother, Ruth, Herman's wife of 67 years.
However, I'm sure if you're ever in the area, our American Businessman would invite you to stop by for a visit at his new mansion; the one his pastor of the Smoky Mountain Church of Christ told us about at Herman's "home-going."
Did I mention? Great systems work!