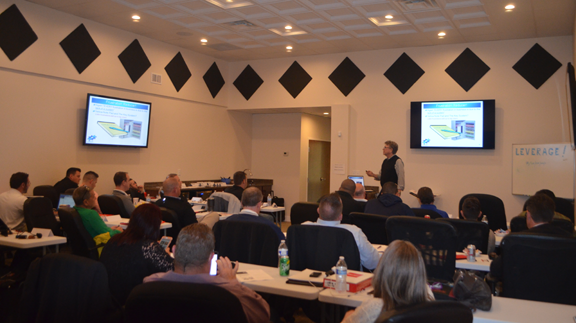 The Systems Guru, as PHILIP BEYER has been called, was a featured speaker at PREP Restoration Conference 2017 on April 6th . His seminar topic for this first annual event in Norcross, Georgia, was "Getting the Process Right."
Philip Beyer, founder/president of Ebiz Products LLC in Smyrna, Tennessee, is a business systems analyst and coach. He's also the designer/developer of System100™ a unique business process management software.
Beyer's systems information met with much enthusiasm from restoration industry attendees at the conference. Emergency fire and water restoration is one of the most critical and complex of industry processes. The multi-faceted procedure for restoring homes and other structures is massive, due to burnouts and water/flood damages. Beyer has built elaborate systems, specifically for cleanup and restoration, that have impressed many in the Industry.
Restoration Industry Speakers and Leaders
The 3-day Conference was hosted by Industry consultant, Dick Wagner, and featured other industry speakers, including Stephan  Boehringer, SEO specialist and owner of Get The Clicks. Also, Scott Tarpley, founding President and CEO of The Drying Team Inc. and Disaster Equipment, Inc. Tarpley's companies were major players in restoring the Gaylord Opryland Hotel after the 2010 flood in Nashville, Tennessee.
The Value of Understanding the Process
An April 12 email, from one of the Conference attendees to host Dick Wagner reads, "Thank you for having us at the PREP convention. I learned so much in those three days and I'm trying to implement a lot of processes I learned. I know I will be able to tackle any size [job] with the knowledge and connections I made at the PREP conference alone."   … Joseph Buchino, Owner, Restoration 1 of Parkland
Restoration and Other Industries turning to Systemization
Philip Beyer's passion to see small to midsize businesses everywhere succeed systematically is well-documented. His popular business book, System Busters: How to Stop Them In Your Business, has helped grow businesses in many industries! More and more businesses are realizing the importance and power of great systems.
"Great systems WORK!" says Beyer.