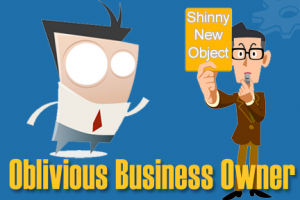 Before you hard-working entrepreneurs balk at the oblivious business owner reference, I promise, this will be beneficial to you!
First, let me say, I've made my share of mistakes as a business owner. Years ago, I might have been the poster child for "oblivious," as I struggled to run my business on a-wing-and-a-prayer!
So, I encourage you to READ ON. It could make all the difference in your professional future!
Oblivious to Obvious Business Frustrations
I was flabbergasted, lately, by a phone conversation with—well, let's just call him "J.B."—a business owner from Ontario.  We had been corresponding concerning process issues in his company. Generally, his issues were typical, obvious; you know, everyday-business-chaos that bogs down business owners around the world. In other words, nothing new!  We discussed the same old underlying reasons for the business frustrations of every, yes, oblivious business owner.
However, J.B. really surprised me, because he didn't seem oblivious, at all! In fact, he agreed wholeheartedly, as we shared solutions to the clear pitfalls, tripping him up. We talked about quality control systems, daily routine checklists, project tracking and causes for errors, etc.
During some of our preliminary conversations, J.B. had told me, a certain software company was hot on his trail, trying to sell their software. However, according to J.B., they offered none of the solutions to fix the main frustrations in his company. Furthermore, it was too expensive for his budget. The software company lacked any systems/solutions to address the frustrations J.B and I had discussed ad nauseam; which, from my view, seemed obvious to him. Therefore, I assumed he knew what kind of software he needed to fix his issues.
Oblivious Business Owner Answers the Dog Whistle
Sadly, J.B. answered the dog whistle by that other software company. He purchased a product that he had claimed didn't have the features he needed to fix the frustrations in his business.
Surprise!
The definition of a "Dog Whistle":  A subtly aimed message intended for, and only understood by certain people.
I now assume—after having observed an undetected dog whistle, calling a business owner—that nothing is obvious!
I asked J.B. to explain his seemingly contradictory decision. He said, "They applied a lot of pressure and were really good at selling!" I was stunned when he pointed to a small feature (a little "shiny" object) in the software that had impressed him. Hmm, a dog whistle!
"J.B.," I asked, "How will that feature fix the main frustrations you are having in your business?
"IT CAN'T!" he said.
My turn to be "oblivious!"
Obviously, OUR company's main frustration—as we strive to bring order to small businesses, one system at a time—is the oblivious business owner!
The good news is, we still meet the needs and frustrations of the passionate, decisive, and not-so-oblivious business owners, able to hear and recognize the OBVIOUS!
Did I mention? Great systems work!