Small Business Management Software | System100™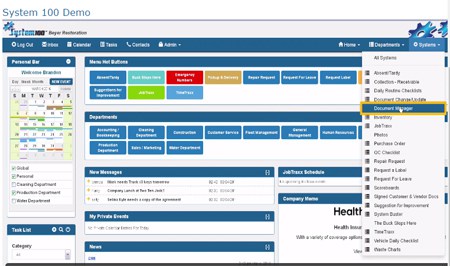 Small Business Management Software is key for a business owner wanting to scale-up without all the pain that comes with growth. Therefore, a good small business management system will integrate several types of business solutions and tools.
For example; Business Process Management (BPM), Customer Contact Management (CRM), Quality Control (QC), Human Resource, Service & Job Management, and Waste Tracking, etc.
In fact, integrating small business management tools into one system is a turn-key system; automating business workflow processes under one roof.
For this reason, System100™ small business management tools incorporate numerous management solutions. Whereby, reducing the number of the various types of software a company uses.
As a result, we offer a suite of very affordable features for organizing small businesses.
Business Frustrations Causing Sleepless Nights?
Organize your business implementing one system at a time.  With this method, you will eliminate business frustrations one at a time, by implementing or updating one of System100's management tools. Thus, gaining time to grow an extraordinary business without the usual distractions caused from disorder.
System100 Small Business Management Software creates a more efficient workplace by providing communication tools for employees in the office and those in the field. As a result, it ushers in a culture of peace and order by ending UN-civil war among employees.
In addition, our job tracking management tool assures all jobs in-progress have all necessary information to perform every job, project, or service, ERROR FREE. Not to mention, ON TIME!
Small Business Management Software Customization
Imagine having the tool to build your own system without requiring a programmer.
System100 has that tool! In fact, we designed a unique feature that enables administrative users to design CUSTOM features, without need of a programmer. In our humble opinion, this makes for the best small business management software around.
To explain further, if you have a manual system or process used currently, then turn it into an automated online system with System100. Not surprisingly, self-customization of features is the future for small business management software. In short, it gives control of all software features to administrators, to mirror the way their business operates.
Don't let the competition pass you with better service and quality! Take the lead with System100™ Small Business Management Software