CAPA Software | Corrective Action – Preventive Action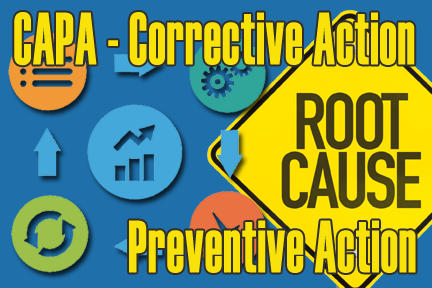 CAPA Software for Corrective Action – Preventive Action is a management tool for detecting, correcting and preventing all business non-conformance.
What's unique about System100™ CAPA corrective action software is, it features a "brain-trust" of online documents and systems, whereby offering the FIX for business issues. In other words, when our CAPA software detects a non-conformance, System100 has a ready-to-go system to STOP the chaos.
More importantly, a system to fix the non-conformance, PERMANENTLY!
What CAPA Software Offers Small Businesses
Each frustration in business is due to a lack of a system, according to Michael Gerber, a renowned business systems guru.
Therefore, it stands to reason, when implementing systems for smooth operations of a growing business, a system to monitor ALL systems is important. Therefore, a CAPA system for following-up, ensuring correct use and continuous improvement of all systems is KEY.
Our founder has a chapter in his book System Busters; How to Stop Them in Your Business that goes into detail about corrective action. However, he called his system of follow-up, "The System Buster Locator."
Simply put, it's a system for the elimination of errors and miscommunications. In short, a system to stop people from doing the same dumb things, over and over!
With that in mind, you might say CAPA is a System Buster Eliminator.
Whether called "CAPA" or "System Buster Locator," it is the "secret sauce" for keeping all systems operating and continually improving.
NOTE: A system buster is any event that causes errors, miscommunications, late deliveries, clutter due to poor house-keeping, equipment failure, etc.
Corrective Action | Preventive Action | CAPA
What is Corrective Action?
Corrective Action is finding the root cause of a non-conforming event—a business frustration—and eliminating it, via a systematic approach. In other words, updating or implementing a system; for example, using a Quality Assurance Checklist to ensure an error or any non-conformance doesn't repeat.
What is Preventive Action?
Preventive Action is the act of avoiding a non-conforming event, BEFORE it bites you in the butt. Moreover, being proactive in updating or implementing a system—i.e. Quality Control Checklist, Procedure, Policy.
A simple example: replacing your tires before you have a flat on a deserted highway.
System100 CAPA Management Software Plus
Not only does System100™ track Corrective Action and Preventive Action, it contains the systems that STOP waste in its tracks. In fact, it comprises integrated solutions that FIX the non-conformance.
For example, Quality Management, Preventative Maintenance, Daily Routine Systems, Request for Leave, Procedures and Policies, etc. More importantly, these software features assure correct process performance, plus bringing in a culture of peace.
To summarize, System100™ Business Process Management Software, plus the corrective action software feature, has tools for organizing a business from front to the back.
Custom Business Processes | Document Design
A unique feature of System100™ is its DocDesigner™ that enables management to make comprehensive changes, and to create custom systems. And, without the need of special programming.
Therefore, it allows the BPM Software to simulate the way any business operates currently.
Sign up and watch our FREE online demo video today

A must see video for a small manufacturing company looking for affordable CAPA software.