DocDesigner™ | The Future of Document Design for Business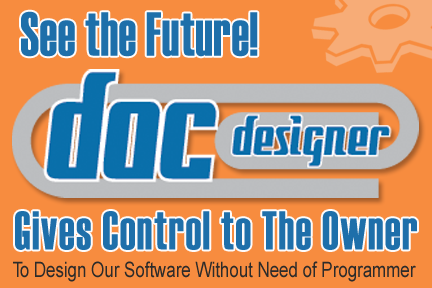 DocDesigner™ is an online Document Designer which also automates Document Management. Create, edit and manage both interactive and static documents for total integration into the System100™ Business Process Management Solution.
Access DocDesigner™ via desktop computer, laptop, tablet or smart phone. More importantly, our document designer features a large brain trust of document templates, whereby avoiding starting from scratch in building Standard Operating Procedures.
Save years in building an Operations Manual for any service or manufacturing business.
Go Paperless or Hard Copies with DocDesigner™
Whether you want to go paperless or would rather use hard-copies to keep as a backup, that's no problem with our document designer. In short, there are situations where you want to do both.
Turn simple, static documents into powerful systems to organize and systematize any company or organization.
Who loves our Document Designer?
Business Owners
Quality Managers
Franchisors and also Franchisees
System and Process Designers
ISO-Certified companies
Lean Management companies
Six Sigma companies
Who needs DocDesigner?
Anyone seeking sustainable document management, and auto-tracking of document revisions, therefore needs System100™. Because, as you edit and develop documents in DocDesigner™, from the document properties, you can choose many options, i.e. update revision, department and department folder etc. In addition, you can choose the System to Associate, Document Type, and Person/s that will use the document. As a result, this is automatically managing your documents. Furthermore, there is auto date revision, number of revisions, and document numbering all at your fingertips.
DocDesigner™ is the culmination of many years, visualizing, planning, mapping and developing. Most importantly, its unique design provides almost limitless possibilities for TQM (Total Quality Management). Therefore, as a business develops its SOP's (Standard Operating Procedures) and gives instant access and up-to-date revisions, to all who need them, order is restored.
In conclustion, other online document builders are out there, however, nothing comes close to the power and ease-of-use found in DocDesigner™!