Quality Management Software | CAPA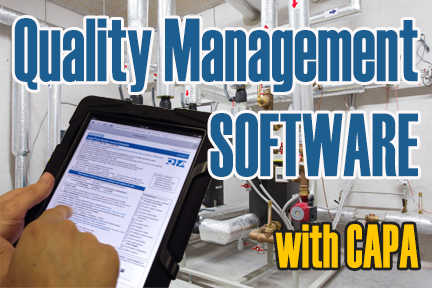 Quality Management Software is crucial for a small business frustrated by employee errors and poor miscommunications. Therefore, Job Shops, Small Manufactures and Service Businesses wanting to distinguish themselves from competitors, Quality Management is a must-use solution.
"Quality" is not just a business slogan in the best companies. In fact, "Quality" is what they do every day! They practice "Quality" along with intentional continuous improvement.
To be sure, QM Software is the highway to success for a business with vision to become great!  
System100™ Quality Management System
System100's team boasts many years of experience with Quality Management Systems, for small businesses around the globe. Consequently, our team simplifies what appears to be complex business systems, so clients can hit the ground running, FAST!
In fact, by using our (QA) Quality Assurance templates and detailed training, the implementation of Quality Management speeds-up.
Furthermore, we have seen companies with 7 to 10% WASTE, cut it to 2%. In short, an ROI (Return on Investment) that you might jump-up and down about!
To repeat, our experienced training team will work with clients until they are well-trained. Moreover, we walk with them throughout the setup process. In fact, when clients need extra training, there's no extra cost.
Quality Management Software Plus
Daily frustrations from operating a small business keep owners stressed and awake at night. For this reason, System100 (BPM) Business Process Management software includes features for systematically turn-keying any small business, from FRONT to BACK.
System100's business management solution brings order and a culture of peace to business via systematization. Moreover, a culture of continuous improvement that ensures a business remains on the cutting-edge of their industry.
Viewing our demo, you will see many other System100 features that benefit any growth-oriented company seeking to scale up, systematically. For example, (CRM) Customer Relationship Management, (CAPA) Corrective Action/Preventive Action, Job Tracking and Scheduling, (PM) Preventive Maintenance, Operation Manual Templates, and more.
Sign up and watch our FREE online demo video today!

Again, we walk you through Quality Management start-up.

Automate your on-line Quality Manual with System100™ QM Software!
For more insight, see a business operating with Quality Management Software.