Quality Management System | FREE Quality Manual | System100™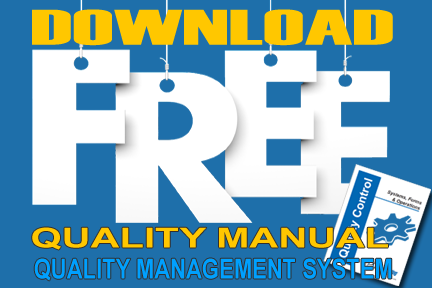 What is a Quality Management System? A Quality Management System is a most valuable tool in a business' arsenal. Whereby, a business PROVES Quality, rather than make unconfirmed claims about their "quality". In other words, QUALITY is not just a slogan printed on a business card.
In addition, a Quality Manual should accompany a Quality Management System for clarity. Simply put, a Quality Manual is an approved document created by a company to specify HOW the Quality Management System works. In other words, a step-by-step map showing the flow and the documents contained in the Quality Management System.
Double Sales Overnight | Are You Ready?
Imagine receiving a call from a potential client offering enough business to double sales overnight. At that point, how much pressure would management be under to get a business ready to scale up to meet that opportunity. Moreover, could the business still produce quality product and service on time, every time?
Most businesses would NOT be ready for such a challenge. Sadly, they lack the vision or faith that an opportunity of that magnitude would come knocking on their door.
In fact, most small businesses haven't a clue how to BE READY for such a gift. But, keep reading, a free opportunity is KNOCKING, right now!
FREE | A Quality Manual | Quality Management System
Don't miss this opportunity to change your company's future for the better. In short, a free map for taking your business from an average "Mom & Pop" style management, to a well-oiled machine. One that guarantees quality product and service, ON TIME, EVERY TIME!
Business Process Management software featuring a Quality Management System is a "Rare Bird" find. So, take advantage of systematizing your Quality and Service. Your customers will love it!
How do I know? We systematized our company!
So, we are giving back, by giving small business owners templates for systems that took hours; some, years in the making.
FYI: Go to our website and type the word FREE in the search filed and see what pops up. More free tools.
Having Frustrations in Business | Here's How to Stop Them
Did you know that every frustration in business is because there is no opposing force to eliminate the root cause of the frustration? The following video will show you HOW to FIX quality and service issues, and ALL frustrations. Fix frustrations that cause errors, miscommunications, and sleepless nights, tossing and turning.
By watching our video, you will understand the value of this FREE Quality Manual gift that guides and reveals the needed steps in building your Quality Management System.
Did I mention? Great systems work!