Job Shop Management Software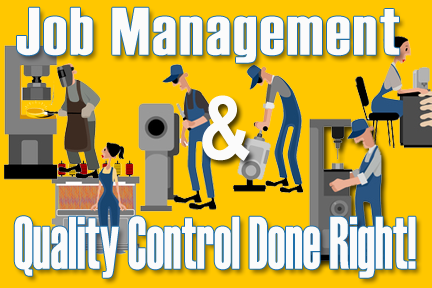 The System100™ Job Shop Management Software is taking the small job shop manufacturers by storm! It is not only a job management software, but a solution that also helps you organize your business. In fact, it features tools that NO other software contains; therefore, making System100™ the next level in business management software. Moreover, it's user friendly, which makes it easy to train staff, so you can hit the ground running quickly.
Quality Control System Included
Not every Job Shop Management software features Quality Control Systems that contain checklists, which ensures work is being performed correctly. More importantly, keeps employees accountable. To be sure, QUALITY is what separates one business from another.
Create Custom Business Systems
The most ground-breaking part of System100™ is, that it gives owners and managers the ability to make countless changes, and to create custom systems, without a programmer or coder. This allows the software to mirror the way your business operates. In addition, most software on the market gives few options for making changes without requesting enhancements from the developer. Consequently, System100 is becoming the future of dynamic business software. Furthermore, we could write a book about System100™'s cutting-edge systems, but like the old adage goes, "Seeing is believing!"
Sign up and watch our FREE online demo video today

You will be impressed after watching this video. In fact, you will wonder why it's taken so long to find job shop
management
software that not only
track jobs and projects
, but has the
tools to organize
the front end of a business. Build an Operations Manual, using our SOP's (Standard Operating Procedures) Templates.
This is a MUST SEE video for any Job Shop looking for organization and project management.
After Watching Demo, See System100™ Job Shop Management Software in Action
The Job Shop below is a printing company that uses System100™. See how a shop should look, after implementing our job shop management software.