Invite Philip Beyer to Speak at Your Next Event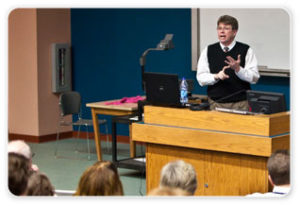 Invite Philip Beyer to talk with your business or group. Philip Beyer has helped countless companies across America, in Canada and Australia, find their way back from chaos and wasted profits—and forward toward success. His passion is to see businesses grow and thrive in a sustainable culture of order and solid teamwork. His solution is, "So simple," Philip says, "I'm amazed every company and organization doesn't see this stuff as Business 101!"
In 1993, five years into owning his own business, Philip's frustration with ongoing chaos, recurring errors, and constant "head spinning". As a result, these frustrations caused him to frantically search for solutions that would set his company on a better track. He devoured business books and articles by all the "experts," spoke with numerous business owners and managers, and scoured the Internet for answers. Consequently, everywhere he looked, he found only pieces of "an incomplete circle" of business systems. There were of theories about how to bring order to a business, but no easy-to-understand methods. Also, he found no sustainable business management software that was easy to use for the small to mid-size businesses.
However, not willing to give in to defeat, Philip committed himself to what turned into a dozen-year journey, of research and development of business systems. As a result, he eliminated frustrations, one step, one system, and one department at a time. His goal was to break down the seemingly complex, into simple, sustainable steps. It worked! It still works, year after year!
How Philip Beyer Stopped the Madness in His Business
More importantly, Philip wanted to enjoy his company and his family. He wanted to be able to leave the premise of his company without chaos breaking out. He did it! His book is about how he did it.
His book, System Busters: How to Stop Them in Your Business, explains how he did it.
TO INVITE Philip Beyer to speak on-site at your business or for your next event,
contact Susan Beyer at [email protected] or call (Nashville TN) 615-425-2652; toll free 1-888-496-8180.
Download Philip Beyer's BIO, photo, and a list of speaker topics here.