Fleet Management Software for Small Business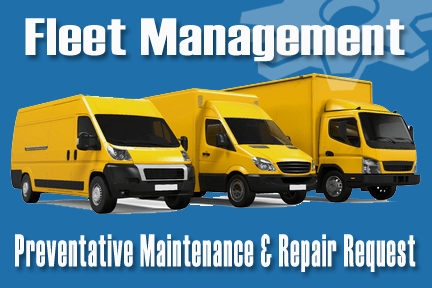 System100™ Fleet Management software is key to saving a business money. Includes a Preventative Maintenance solution, whereby management insures consistent performance of all vehicle maintenance.
In addition, a Repair Request feature provides vehicle drivers a system to quickly notify management of current or foreseen problems. In other words, a system for proactive management of all company vehicles.
Don't wait until a vehicle completely breaks down, causing missed deadlines and appointments.
Build Customized Preventive Maint. Checklists
With the DocDesigner™ feature in System100™ build online, interactive maintenance checklists for every vehicle. In fact, turn any static document into online systems. Moreover, build checklist for any piece of equipment needing consistent maintenance. For example, company air conditioners, company heating units, and other important equipment, etc.
Fleet Management Software Eliminates Paper Log Books
Eliminate, greasy log books lost in some dusty cabinet for preventative maintenance and repair information. Whereby, all PM data in System100™ is totally searchable and online. Search by date, vehicle name or person who did repairs.
Organize a Business Front to Back
As you will see in this video System100™ is much more than Fleet Management Software. In fact, it can organize a business from the front to the back and from beginning to end. With System100™ update or build an comprehensive Operations Manual with complete document management for any size company.
Check out all the integrated features provided in System100™ under one roof. Be ready to be challenged with new ideas!
Sign up
and watch our FREE online demo video today
You Will be Impressed!