Continuous Improvement Software | Small Business TQM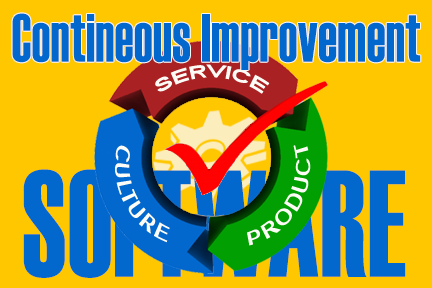 Continuous Improvement Software removes recurring employee errors and miscommunications found in most small businesses.
Sadly, many small business owners believe Continuous Improvement Software is for the "big boy" companies, only. Therefore, assuming continual improvement methods are not relevant, or a waste of time.
Consequently, many small businesses continue the frustration of errors and miscommunication; wreaking havoc in their businesses.
In fact, small business owners buy into the MYTH that employee mistakes are "normal"; therefore, they simply accept it.  In addition, business owners believe Continual Improvement Management Software would just add one more thing to their plate. Therefore, rejecting the essential benefits of continuous improvement, out-right!
The Continuous Improvement Revolution
We recommend all small business owners read two books before implementing System100™ Business Process Management Software or any management software.
The E-myth, in which the author paints a clear picture of systematic continual improvement in a small business. A fascinating read for a start-up business or a well-established small business struggling with chaos.
System Busters; How to Stop Them in Your Business, by our founder. Whereas, he gives a step-by-by account of continuous improvement implementation in his company. As a result, it totally transformed his business and life.
Continuous Improvement Works!
Join with the thousands of small business owners and entrepreneurs who participate in the continuous improvement movement. Whereby, ushering in a "Symphony of Order" using continuous improvement tracking software.
Most importantly, with Total Quality Management (TQM) firmly installed, employees, family, and friends also share in the benefits!
Consequently, you will spend more time doing the things you've always wanted to do, but never had the freedom.
Continuous Improvement Software | Solid ROI
Management software should NEVER cost money, it should MAKE money!
Again, by reducing errors, miscommunication, and all nine types of waste, the (ROI) Return on Investment becomes self-evident.
Continuous Improvement tracking software does works! How do we know? We've seen it work!