Field Service Management Software
Looking for Field Service Management Software for your Business?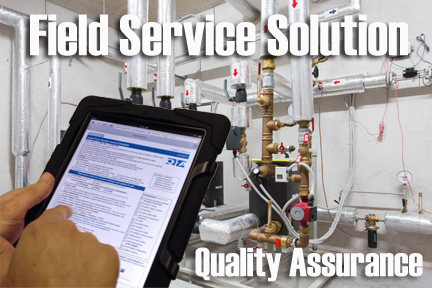 You've come to the right place!
Offering Field Service to customers requires systems that ensure quality service is being performed on every job or project!
Nothing should be left to chance, when it comes to customer service. Your bottom-line suffers when errors and mistake occur on jobs. Also, dumb mistakes are a sure way to lose valuable clients. Not to mention the risk of a lawsuit due to negligence.
Every prompt on a checklist is time-stamped
Management which can see performance activity of procedures or checklists real-time. Field Service Personnel are aware their documents are being time-stamped. Therefore, checklists adherence improves
Can I make changes to these checklists?
With our DocDesigner™ feature, you as the administrator can easily edit any prompt, graphic or item on every document. Thus, you can customize any procedure or checklist to fit your unique circumstance. You can start from scratch building a new procedure, or edit existing documents located in our "Brain Trust."
The complex made simple
Our solutions make the seemingly complex very understandable to the most average of personnel. You might say, System100™ is for "dummies!" However, we believe there are no "dummies" out there, just those who learn on a simpler curve. We believe there's terminology and business software that seems purposelessly designed to be complex. Therefore, System100™ was designed to allow administrators with permission, to easily make changes.
Totally Organize Every Area of your Business

System100™ offers much more than field service management. It has features for Total Quality Management that can organize every department and every aspect of a business. This comes at no additional cost.
As you know, most software gives you very few options for making changes without requesting enhancements from the developer. That is why we developed the DocDesigner™ feature in System100™. We could write a book about the cutting-edge systems in System100™. In fact, we have! But, like the old adage says, "Seeing is believing!"
Sign up and watch our FREE online demo video today
You Will be Impressed!


NOTE: After you submit this form we will send you an email with a link to the Online Video Demo for your viewing.
If you don't receive it, please check your spam folder. If you're still unable to find the email, please call us at 888-496-8180.
Thinking to totally organize your business via a systematic approach?
Then, we have a great video you should watch. Take this Tour of Lean Management with our founder. Over 275,000 people have seen it and hopefully you will pick up a few nuggets along the way.