Bulletin Boards | Message Boards for your Business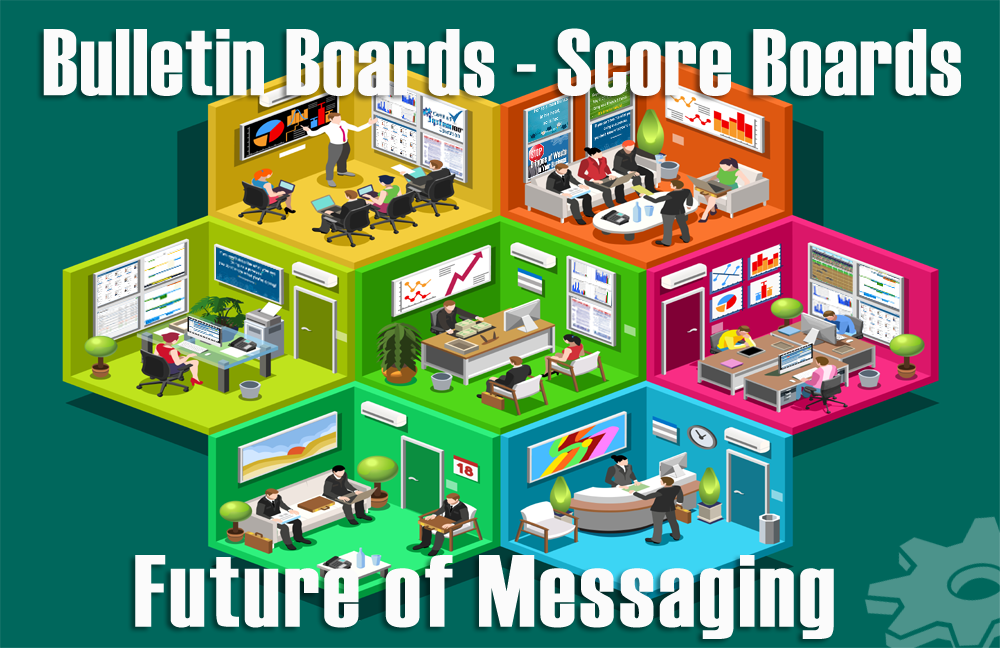 The Future of Content Messaging via Large Screen Monitors. Bulletin Boards, that rotate content, allow everyone in the company to see-at-a-glance what is going on in an interesting and unique way.
Stop with the dusty, chaotic, Bulletin Boards made of cork, hanging in employee areas that are rarely updated! They're just paper on top of paper, which is rarely read.
The reason no one pays attention to, or reads what's on those cork boards is because, they become part of the scenery. When there are no changes, like a picture on a wall, after a time people tend to discard them. It's just human nature!
We have small to large companies using this digital bulletin board system, and they have found it to be simple to use. In fact, we have a company that uses our software and has large screen TV's in over fifty locations displaying ads for various companies.

Rotating Bulletin Boards Content Draws Attention

Our software allows you to have as many rotating messages as you want to display. It also allows you to set the rotation order and length of display time.
Digital is the Future for Displaying Information

The reason for this is, the message space changes and is therefore fresh, which keeps the viewer engaged.
Control all Messaging Boards From Anywhere in the World

System100™ supports as many message / bulletin boards as you want to display. This means, you can have a Large Screen TV in your lobby that displays rotating messages and advertising product specials for customers. You can also have boards in every department or area of your building. Engage your employees by displaying Company-wide calendars, Meetings, Events, Warnings, Policies, etc. You might just want to display some neat photos you or your staff have taken.
Background Templates for Keeping Content Interesting
With the DocDesigner™ feature in System100™, you can customize Bulletin Boards with great creativity.
There is nothing that compares to System100™! We could write a book about the cutting-edge systems in System100™. In fact, we have! But, like the old adage says, "Seeing is believing!"
Sign up and watch our FREE online demo video today
You Will be Impressed!


NOTE: After you submit this form we will send you an email with a link to the Online Video Demo for your viewing.
If you don't receive it, please check your spam folder. If you're still unable to find the email, please call us at 888-496-8180.
Read More on the Bulletin Board – Scoreboard Features : Click Here
Below are just a few ways you can use System100™ Bulletin Boards – Scoreboards