Power Solution – System100™
System100™ can empower your business to manage itself in your absence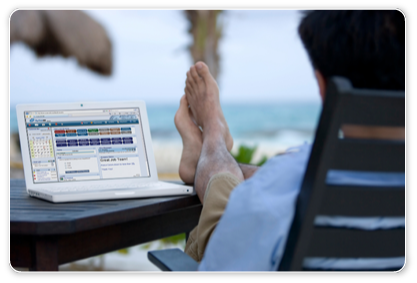 Isn't that what we're all looking for, really?
As an owner, do you daydream about what it would be like if your company would run smoothly—whether you were there or not?
Do you wish you had time and the energy to develop marketing plans to grow your business—rather than being bogged down in day-to-day operations?
Do you get tired of those umpteen interruptions from employees, asking the same old questions?
Do you get stressed over repeated phone calls from customers reporting mistakes or poor quality with their order?
And I know you just love it when managers come storming into your office to inform you of an error that's about to cost you hundreds or thousands of dollars!
How about those…
● Missed deadlines
● Vendor errors
● Order entry mistakes
● Equipment break downs, due to poor maintenance
Do I really need to list more? On and on we could go, but I think you get the picture. Burned-out owners and managers live with this every single day.
The Good News is—there is a way! A way to get control of your business so you don't always have to be there!
When I first learned the power of good systems, it changed my life.
I spent over ten years systemizing my business, which gave me the freedom to do many of the things I've always wanted to do.
These systems provided me with the time and the platform to share what I'd learned with other business owners, so their businesses would run smoothly while they did some things they've always wanted to do, like taking real vacations, attending their children's games, writing a book—getting a good night's sleep!? No more constant worrying if everything is OK back at the office.
What is System100™?
System100™ acts as the "brain trust" for all the processes in your business. This software includes the System Buster tool and many other built-in systems that empower you to systemize your company in a matter of months, rather than the 7-10 years it normally takes to totally systemize a business.
System100™ also comes with a detailed Operations Manual which is used as a template to build your own Standard Work/Operations Manual. System100™ has reporting and measuring tools to insure your business is saving time and resources. These tools actually measure chaos in a business and provide solutions to eliminate internal disorder and reduce waste to less than one percent.
Once in place—you'll be amazed at how your business will run!
On the front of my book, System Busters: How to Stop Them in Your Business, it says…Eliminate errors, bottlenecks, and clean up the messes to make your business run like a super-clean, well-oiled machine, whether you're there or not!
The key words being, "…whether you are there or not!"
Take a look around this Site at some of our videos on business organization and systemization—you will especially want to click on the Philipbuster Banner.